Covid: How has it effected students education in the classroom this year?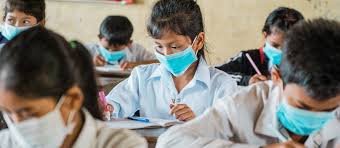 Covid has impacted many of the students' education this last year. After being asked in a survey, many students said that they feel Covid has taken away a year of high school and like sophomore Emily Lococo expressed, "I didn't get the whole experience of high school." This year however was different for students. Since they are attending classes in person and everyone is coming to school, it feels a bit more "normal" than last year. One thing many students said like Kyle West was that "hopefully the school year will end with no masks." For many of the students, masks were the only major thing that made a difference in their education, and they considered it an inconvenience. At first, masks were "annoying" and "difficult to get used to" but now like junior Kara Michonski said, "I have learned to get used to wearing masks all the time again."
Of course, adapting to change isn't always easy and it can affect people differently. Adapting and learning during difficult times like the pandemic was extremely difficult last year and took a toll on many students across the country. When asked what things have been learned during difficult times and adapting to new set mandates, most of the responses were similar. Between extracurricular activities and sports being affected, students said that they have learned a lot when adapting to certain mandates and guidelines. For example, students like sophomore Taylor Petruczenko stated, "I have learned how to deal with change and how to adapt to different learning environments and styles." Senior Jianna Birns said, "I appreciate being able to have in-person learning this year." While various students have a positive outlook on how this school year will end and state that the year will end with no masks, some are on the fence and think that by the end of the school year masks will still be required. Either way, the students are willing to put up with the mandates and are looking to have a fun and successful year!