A fast-break down of the Chicago Bulls' season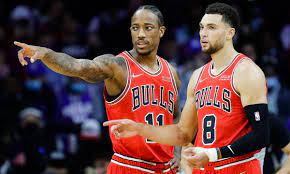 The Chicago Bulls just finished their season on a much higher note than previous seasons. They finished 6th place in the Eastern Conference with a 46-36 record. The Bulls received multiple new players this season which helped boost the team's chances at the playoffs. Those players were Alex Caruso, Tristan Thompson, DeMar DeRozan, Ayo Dosunmu, and Lonzo Ball. However, with many of these players facing injuries or joining the team late in the year, the Chicago Bulls did not live up to the hype they received at the start of the season. 
With somewhat of a bumpy start to the season, the Bulls bounced back and reached 10 games over .500 by the end of the regular season. Team leaders Zach LaVine and DeMar DeRozan led the Bulls in points and assists during the 2021-22 season. Center Nikola Vucevic led the team in both blocks and rebounds this past season. The Bulls' new signees, Alex Caruso and Lonzo Ball, were injured for much of the season, which prevented them from seeing much time on the court. Having the Bulls' big three plus Ball and Caruso would have made Chicago a much better team with lots more talent on the floor at one time.  
In this upcoming offseason, the Bulls should add more depth to their lineup and have more versatile backups coming off the bench. The Bulls already have LaVine, DeRozan, Vucevic, Caruso, and Ball in their starting lineup, but they should add one or two more average small-ball players such as Matthew Dellavedova or Donte DiVincenzo – two players who are not the best in the league but still offer a sufficient amount of energy and support for their teams. 
The Bulls could have been one of the best teams in the league and would have been able to beat almost every franchise except maybe one or two if the team stayed fully healthy. With Chicago's four new big-time players, each earning contracts of $30+ million apiece, this next year in the Windy City should be nothing but exciting for basketball fans.