Samsung's Explosive New Galaxy Note 7
Almost a month ago on August 19, Samsung Electronics released its highly-anticipated successor to the Galaxy Note 5: the Samsung Galaxy Note 7. The Galaxy Note 7 is a huge improvement upon the Galaxy Note 5, which was released in 2015. The Note 7 has a dual-curved screen (so that you can do more, better and faster), a rounded back (so that you can hold the 5.7 inch phone comfortably in your hand while also using the S Pen), and to continue the legacy of previous Galaxy phones, was made water-resistant.
When it was first released, the Note 7 was given relatively good reviews, praising its new features, design, 64GB storage, and its impressive battery life. In spite of its positive reviews, however, the Note 7 has been recalled after multiple reports that the Note 7 can ignite and explode while charging due to a battery cell issue in some units. It has been difficult for Samsung to work out which phones were affected by this issue among the 2.5 million Note 7s sold.
In one report, a Note 7 owner in South Korea told CNNMoney that he had been awoken in the middle of the night when he "smelled something burning." He had seen small flames on the phone where it had melted. There was also a recent reported incident in the United States on September 7, posted by Reddit user 'brodesto.' According to brodesto, his friend had been using the phone when it had started on fire. The phone burned his hand, and he dropped it on a table as it finished burning. Luckily, the user's injuries were not too intense. Before this incident, there was a similar report from Australia, where an exploding Note 7 caused significant damage in a hotel. In South Carolina, fire officials are inspecting the cause of a house fire that started in a garage, where the owner had a Note 7 charging. There were no injuries and no one was home at the time of the fire.
Samsung claims there have been 35 reported cases, worldwide, of the Note 7 exploding. "There was a tiny problem in the manufacturing process, so it was very difficult to figure out," said president of Samsung's mobile business Koh Dong-jin to reporters. "It will cost us so much it makes my heart ache. Nevertheless, the reason we made this decision is because what is most important is customer safety." Shares in Samsung Electronics have dropped 7% since Monday, September 12.
It will take about two weeks to prepare replacement devices. According to Samsung, the Note 7 has been launched in 10 countries, but with different companies supplying the batteries. Samsung's recall of the Note 7 comes just a week before the presentation of the new iPhone model from Samsung's main rival, Apple.
This is how the NBC Nightly News with Lester Holt began on September 9: "Tonight's new warning from the Consumer Products Safety Commission: Power them down, stop charging or using them. 'When these batteries overheat and burst, the results can be serious.' The new alert coming less than 24 hours after the FAA warned anyone who flies, keep the phone turned off in flight, don't charge the batteries on board, and don't put it in a checked bag."
"The fear is that this thing may catch fire. And trying to put out lithium battery fire on an aircraft is very, very difficult." said Greg Feith, a former senior NTSB investigator.
The takeaway from this report: return your Galaxy Note 7 as soon as possible and replace it. Please do not risk keeping your Note 7; the dangers of keeping it outweigh the flashy new features.
Leave a Comment
About the Contributor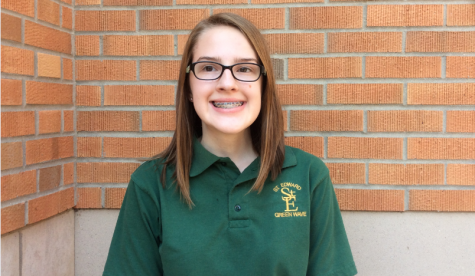 Meghan Driskell, Reporter
Hello! I'm a freelance reporter for the St. Edward Edge. I enjoy drawing, writing, playing video games, pop culture, and making people laugh with my pun-tastic...