Father knows best, but do you know Father?
With St. Joseph's Day coming up, it is a time to celebrate fathers for all they do, but how much do people know about the father leading this school? Many know and have seen Father Blood around the halls and at school, but many people do not know all the work Father Blood does.
Father Blood is the Spiritual Director and Assistant Principal at St. Edward Central Catholic High School. As the Spiritual Director, he plans retreats three to six months in advance, holds confessions as much as possible, holds Mass every morning at 7:30, and is there for students and people in the area. As the Assistant Principal, he helps Mr. Drake with students when disciplinary action may be needed and helps Mrs. Woj with the calendar throughout the year.  
He has many other duties outside of those in the school, such as Assistant Vocational Director, where he may travel to other areas and schools to teach about and discuss with students about their potential vocations, and offer Mass. He is a chaplain for the Youth Ministry and Young Adult Design Team. "We'll meet with a handful of youth ministers and get everyone on the same page, and see how the Diocese can better support," he explains.  He is also a chaplain for a number of teen summer camps. He officiates about 6-10 weddings per year and helps with all of the marriage preparation. 
In his free time, Father Blood loves to read and write. He has tried poetry and enjoys reviewing theology that he has learned in the past along with reflections. He is also an avid professional wrestling fan, along with Mr. Negron.  Recently, Mr. Drake has introduced Father Blood to Legos. "I'm trying to build Legos more because it is a nice little puzzle." He has started building his first set, the Bat Mobile. He also loves impressions and finds it fun to sneak them into his homilies.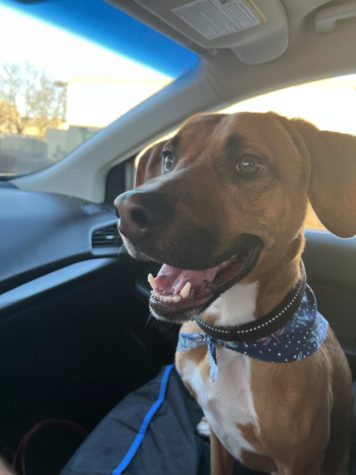 His favorite food is chicken parmesan. He also likes Thai food and baking in general. His favorite holiday is Thanksgiving because it is a time when he can be with his family without anybody worrying about work. His family used to celebrate in a more traditional way, but now it is a very laid-back time to just spend with family. He has a dog, Rev, whom he loves spending time with. He got Rev during the COVID-19 lockdown, so Rev is very well-trained and has adapted to his schedule well.
Father Blood believes one of the most important things is just being present around the school for students and other staff members. "My hope is to notice if a student or staff member is having a rough day and being able to make a connection to see what may be going on." He believes that Catholic schools offer much more than an education in English, Math, and Science. "This isn't just a classroom where we learn ABC and 123, but instead where we engage the whole person." Many may not notice how lucky they are to have Father Blood supporting and guiding them through their high school years, but St. Edward would not be the place it is without him.