Cannoli dip? Nah, cannoli trees
Want to make something easy, creative, and fun with your family or friends during the holidays? Then making sugar cone cannoli decorated as Christmas trees is an amazing way to do so! It's pretty easy to make and it's a fun and creative way to make your holiday desserts look cute and festive. There are many possible ways to do decorate the sugar cone trees and it's a fun way to include any children into the holiday cooking. In addition to making this holiday treat, it's also delicious to eat.  You can add cookie dough or just cannoli dip inside the sugar cone tree or you can just leave it for display at the Christmas dinner. Including this holiday treat will add a little spice to the holiday dinner since it'll look festive and taste amazing. 
 
The cannoli cream recipe included here is Buddy Valastro's from the famous show Cake Boss. They're known to have one of the best bakeries out there and he comes up with the most delicious recipes.  Just following his steps and ingredients, you'll be able to taste his bestselling item. He sells about 2 million cannoli a year and says that it is all due to the type of cheese and cinnamon oil. "The secret ingredient to the cannoli cream is the cheese. We cut the cheese, yeah! Another secret ingredient is cinnamon oil. That stuff's holy," says Buddy.  It's pretty simple to make, but the temptation on eating it while making it is hard so make sure not to get tempted. 
 
Ingredients: 
Ricotta Cheese, Impastato 4 lbs. 8 oz. (must be this cheese) 
Sugar     1 lbs. 
Vanilla     1 Tbsp. 
Cinnamon oil    2-3 drops ONLY  
Chocolate chips   4 oz.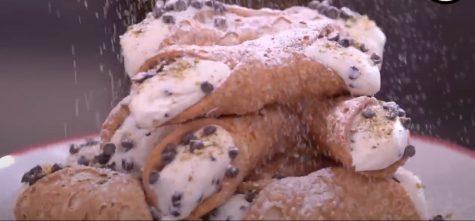 Steps: 
1. Have everything ready with exact measurements. 
2. Make sure to have a paper towel of table cloth to make the clean up faster. 
3. Put the cheese in a mixer bowl on 1st speed to mix until smooth. If you don't have a mixer bowl, use hands to mix until smooth. 
4. Gently add the ground sugar and mix until it dissolves and gets in a smoother consistency. 
5. Add vanilla, cinnamon oil (2-3 drops goes a long way), and chocolate chips 
6. Once everything is done mixing, put in a Ziplock or pastry bag in the fridge until cold and ready to pipe inside the sugar cone or cannoli chip itself. 
7. Once the cannoli dip is inside the sugar cones, put them in a plate or tray in the fridge for 10 minutes 
8. Make sure to have fun and start decorating!