Lady Wave Makes History, Secures Spot at State
"I don't even have words to describe the feeling," said senior leader Madelyn Spagnola after the final buzzer rang, sending the St. Edward Lady Wave basketball team to State. This will be Spagnola's second trip to a state tournament, after she helped St. Edward's girl soccer team reach State her freshman year. This time around it is even more special, to be able to end an illustrious high school career as one of the four best 2A teams in the state of Illinois.
The Lady Wave stormed back in the second half to knock off Illiana Christian by a score of 49-46. They were facing a 14-point halftime deficit but managed to come back thanks to their intense defense and Spagnola's second half scoring burst.
Illiana clearly controlled the first half. They simply had too much size. This led to them having a 29-14 rebounding advantage heading into the break. Gabby Kreykes was Illiana's do-it-all senior star with six points, five rebounds, and four assists in the first half alone. Although the Lady Wave did do a solid job containing her, as she only shot 3-11 with four turnovers.
The game was close at first, with the two teams tied at eight until Illiana went on an 8-0 run in the final minute and a half of the first quarter. St. Edward's struggles continued in the second quarter. They couldn't make anything (shooting 20%) and couldn't stop Illiana's Deborah Smith who had a double-double with 12 points and 12 rebounds in the first half alone.
The second half was a completely different story. The Lady Wave took control from the start and ultimately never relinquished that control. The Wave's shooting struggles improved slightly, going 7-18 (38.9%) but it was their defense that really turned things around. The Lady Wave's suffocating defense resulted in six steals and 2-14 (14.3%) shooting for Illiana. Also, St. Edward did a better job crashing the boards, and not allowing Illiana to get any second chance points after having ten in the first half.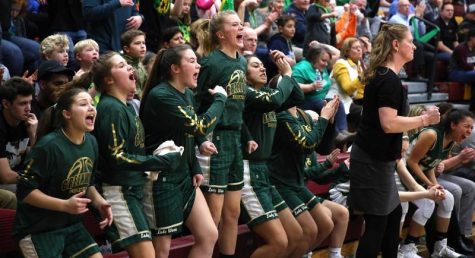 Pretty early on in the third quarter St. Edward started to regain some momentum. After being bothered by the taller defenders in the first half, Spagnola realized that in order to combat her quickness they had to sag off of her. This allowed her space to shoot, and shoot she did. Spagnola hit two key threes that changed the momentum of the game and gave St. Edward the boost it needed. St. Edward's players were feeling it, and so was their student section. They started chanting "Why so quiet!" while they were still down 29-23. That gutsy cheer could've gone horribly, horribly wrong had the Lady Wave not pulled it out, but luckily for St. Edward's dignity, they did.
By the end of the third quarter, St. Edward had all the momentum. They had narrowed the gap to just two points, and had held Illiana to only five points in the third quarter. They followed up with an impressive fourth quarter where they used their defense to lead to easy buckets. They had all the confidence in the world and the crowd fueled them with their raucous cheering.
The final two minutes were the most stressful game of both team's seasons. With 2:38 remaining in the game, Spagnola hit a big three that put the Wave up 45-44, a lead that they would ultimately maintain for the rest of the game. However, what transpired in the final 2:38 was absolutely absurd. Spagnola missed five consecutive free throws. According to Max Preps, Spagnola is a 74% free throw shooter. The odds of such a good free throw shooting missing five straight was so incredibly low, but nonetheless it happened.
Luckily for St. Edward, Illiana was unable to capitalize. The nerves were high on both ends. Spagnola wasn't hitting free throws that normally she swishes with ease, and Illiana failed to connect on fairly easy shots that in normal, less stressful circumstances they might've been to make. Finally with 12 seconds left, senior co-captain Katie Castoro nailed two clutch free throws to give the Wave a three point advantage. Illiana put up a three at the end, but it came up short.
What makes St. Edward so hard to beat is how they make up for each other's shortcomings. Castoro got into foul trouble early on, and Spagnola stepped up to compensate for the lack of Castoro's scoring. Later in the game, when Spagnola was struggling from the line, Castoro came through and delivered on the two biggest free throws of her life.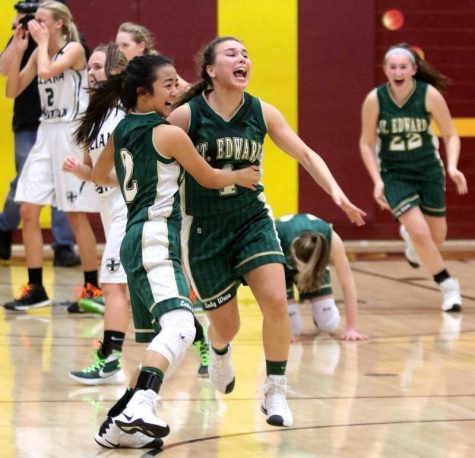 While the combined late game heroics of Spagnola and Castoro helped the Lady Wave close the game out, it was how they came out as a team after halftime that ultimately carried them to State.
When asked what adjustments she made at halftime, Coach Dawson responded with, "We just told the girls that we weren't going to have another shooting half like we did in the first half. We needed to get more into our normal rhythm and keep pushing the ball up the floor because they weren't going to be able to keep up with us the whole game."
The Lady Wave came out of the break with an intensity that's not easy to have when you're facing a 14-point deficit. Spagnola wasn't worried.
"Within the first three minutes of that second half we knew. We knew it was our game and we were going to make a comeback," said Maddie Spagnola when asked if the team knew they were capable of mounting such an impressive comeback.
St. Edward's Lady Wave (27-5) will take on the Bloomington Central Catholic Saints (21-10) at 7:15 p.m. Friday night. The game will be played at Illinois State's Redbird Arena. The loser will play for third place on Saturday at 5:30 while the winner advances to the 2A State Championship Game which will be played at 7:15 on Saturday.