Lady Wave Rolls to Super Sectional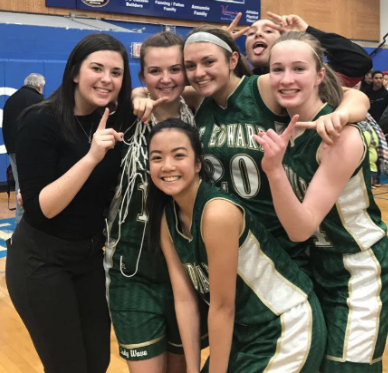 St. Edward's Lady Wave have been dominating teams all season, and the Feb. 16 Sectional Championship against Latin School of Chicago was no different. The Lady Wave coasted to an easy 63-42 victory, improving their overall record to 26-5.
St. Edward came out of the gates firing. They scored 23 first quarter points. Latin had their highest scoring quarter at 15, but it was no match for Maddie Spagnola's early outburst. Spagnola put up seven in the first quarter. She continued her hot start with a nine point second quarter.
The game was essentially over at halftime, when St. Edward owned a 14 point lead. The Romans tried to spark a third quarter comeback, narrowing the gap to nine points, but the Lady Wave's three co-captians (Spagnola, Yssa Sto. Domingo and Katelyn Castoro) combined for 10 of the 11 third quarter points to put the nail in Latin's coffin.
St. Ed's has been so successful in large part due to the work of their co-captains. Spagnola and Sto. Domingo wreak havoc on the defensive end, generating steals or deflections on seemingly every play. On offense they offer elite playmaking from both guard spots. Both are able to stretch the floor beyond the three point line, proven by each making a pair from deep.
While two dynamic ball-handlers on their own is a nightmare for opposing defenses, throw in the inside scoring presence that Castoro offers and it makes a lethal, virtually unstoppable to this point, offense. While Spagnola and Sto. Domingo are more than able to draw fouls, Castoro is on another level. In Thursday's game she got to the line on three separate occasions and converted all six of her free throws. She finished with 12 total points, using her skill and soft touch to score in many different ways.
Sto. Domingo, the Lady Wave's junior point guard, had this to say after the game, "Right from the tip, we started with full intensity. Our adrenaline pumped us up and we were ready and fully prepared for whatever Latin planned for us."
Anyone who watches the Lady Wave play can tell that, as Sto. Domingo says, intensity is very important to their gameplan. It all starts on the defensive end, where St. Ed's forced 20 turnovers. They steal and deflect plenty of balls, but their constant pressure also forces the opposition into committing foolish turnovers and contested, inefficient shots. Then, they run in transition and turn the other team's mistake into quick offense.
Latin had mild success when they slowed the tempo and took away the Lady Wave's easy scoring opportunities. This was highlighted by the Roman's junior leader Jade Edwards who led the team with 15 points, but was still below her season average of 22 points per game. When Latin was able to slow the game down they were able to grit out a few baskets, but as the pace increased, so did St. Ed's margin.
With a state semifinal berth clearly in sight, the Lady Wave is definitely looking forward to potentially solidifying themselves among those teams in St. Edward's history. However, they have one more game that they must win in order to get there. Monday, Feb. 20, the Lady Wave take on Iliana Christian at Concordia University at 7 p.m.