Are You Ready For College
Once you hit high school, you are already told to start thinking about college. Most of us think, "Well that is still a long way away, I have time". Then come junior and senior year, when you have to take the ACT or SAT, start the college visits, write the application essays and build a stronger resume. Many of us completely immerse ourselves in the college planning experience because it is what we have been working towards our whole academic career and it's also a new and exciting journey, but do we actually realize what we are getting ourselves into?
This process can be very stressful if you let it become overbearing and control your life. The best way to overcome the stress of looking at colleges is to stay organized. Create a folder to keep all your information and papers you receive from various colleges. It is also important to talk to other college students, admission advisers, and your teachers; they will be able to help you pick the right college for you to have the best experience. Procrastinating college decisions will add to your stress even more. Senior Alec Uscilla gives his opinion, "Don't procrastinate, I wish I started earlier. Especially if you're in a sport, start talking to coaches and getting involved in their programs. You should also try to be well rounded. Get involved with school activities even if it isn't your talent". Once you are off to college you will have to take on a lot of responsibility and be able to make decisions, so start practicing now.
Starting junior year, you should start visiting colleges, applying for scholarships, and taking the ACT. Senior Erica Strong says, "Some advice that I would give to anybody getting ready to start applying to colleges is to start now. It will be a lot easier on you when you get into your senior year and you don't have to worry about school work and applying at the same time".  Senior year is not a blow-off year, you still have to work hard and finalize your plans after graduation.
Exploring your options is imperative. You do not have to go to college right away. There have been a lot of cases where students go off to college right after they graduate high school because that is the norm, but they are not necessarily ready or have any idea of what they want to do, and that is okay; you are not the only one who might be feeling like this.
That was my case. I thought I had everything figured out, what major I wanted to go into, and what colleges I was interested in. But, like most students, I began changing my mind over and over to the point where now I have no idea what I want to do. I explored the option of taking a year off to just figure things out. There is no rush. I took time to evaluate what I knew and I was interested in. I started thinking about taking a gap-year.
Ever since I was pretty young I had a desire to go on a mission trip, and although I have never gone on one I decided I wanted to go to a third world country as opposed to just going on a trip in the states. I started looking at Christian mission trip groups and eventually I came across an organization called FOCUS Missions. It is a Christian organization that offers group missions all over the world. There are also mission trips specifically for medical students or athletes. Their regular mission trips are separated by seasons, so there are missions in the spring, summer, and winter. I decided I would go on the winter trip of 2017, which narrowed my choices down of where to go. Initially, I wanted to go somewhere in Africa or to Haiti, but after talking with my parents about where to go, their only request was I had to go somewhere relatively safe, which crossed Africa off my list.
I checked where the winter trips are, which turned out to be a pretty short list. Sure enough, Haiti was on the list, and all of the sudden it seemed like fate and I knew this is where I should go. For me, going on a trip like this will hopefully give me the experiences I need to realize what I am good at and what field I am most interested in. I have always known that whatever career I do it will have to involve helping others. And that is exactly what this opportunity involves. We will be serving the impoverished people by food distribution, pop-up wound clinics, maintaining a home for the dying, and caring for sick babies in the hospital. We will also go to Cap-Haitian and help the Missionaries of the Poor care for children with cerebral palsy and other mental illnesses. This will give me the experience I need to figure out if I could handle working with the sick and dying.
Don't get pigeon-holed into the traditional high school straight to university approach. Take a gap year, go to a junior college for the first two years and then transfer, or go the traditional route of going to a four year college right after you graduate. Whatever you choose to do, make sure it is the right decision for you. Start applying, start visiting colleges early; even just looking at colleges online will make you one step closer to your end goal, so start now.
Over half of the students surveyed at St. Edward on Twitter expressed that they felt ready for college, but were very nervous.  This is natural….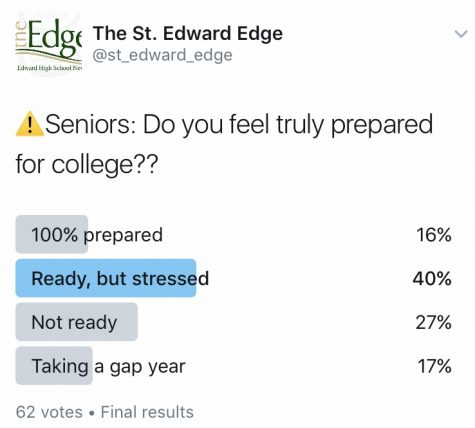 When looking at colleges it is important to remember; don't look for "the best" college, look for the right fit for you.