Students come together to help area children at Christmas
Stiches that serve is a program headed up by Mrs. Tabbert, our Family and Consumer Sciences department head. "In 2014 and 2015, 35 quilts in a drawstring bag made by fashion construction classes were donated to Taylor's Legacy. Taylor passed away in 2007 at the age of 10 from leukemia. Family and friends collect items to give to children on the oncology floor at Children's Memorial Hospital on Valentine's Day."
Every year, Mrs. Tabbert's fashion construction classes do a service project, which she calls, "Stitches that Serve." For "Stitches that Serve," her students put their sewing skills to work for the less fortunate. For example, previous years, they have sewn drawstring bags, blankets which were donated to organizations such as Spring Hill Vet Clinic in Carpentersville, Cinderella's Hope in West Dundee, and now Youth Services Bureau in the Kane County area. Last year, all fashion construction students made blankets from donated double knit fabric. The blankets fit the bottom of a cage or crate. They were donated to local animal rescues. Students made over 75 blankets and clothing students will continue to make the blankets this year.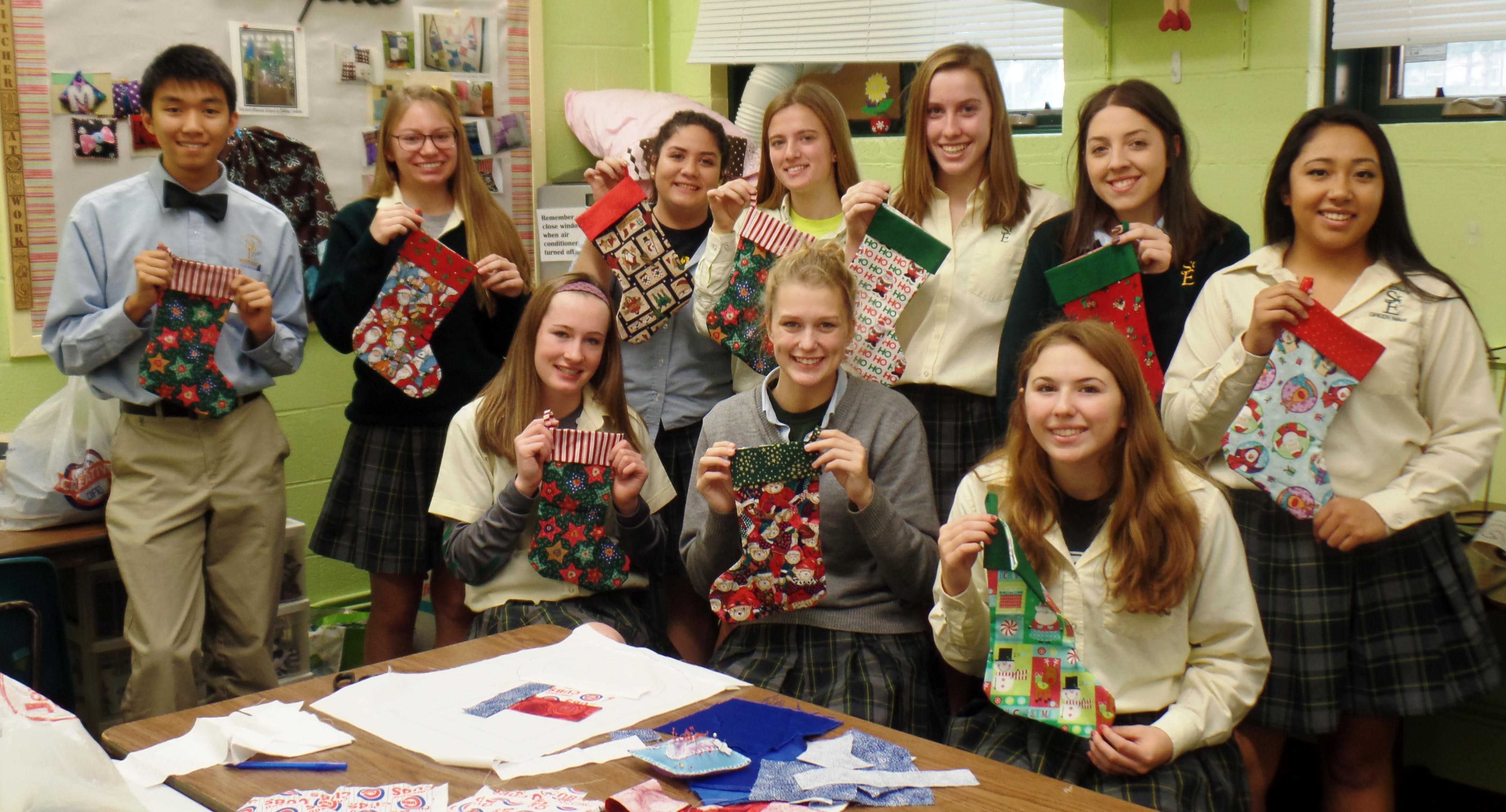 This year, during the month of November, National Honors Society members have teamed up with Mrs.Tabbert and her fashion construction classes to assist the Youth Services Bureau for this upcoming Christmas. Mrs. Tabbert's clothing students are sewing 250 stockings to donate to foster kids in the Elgin area. These children will range in age from infant to high school. Both NHS and fashion construction classes are collecting small stocking stuffers in order to fill up the stockings to make Christmas special for the foster children in the area.
Students also collected school supplies in September for the Youth Services Bureau, and wanted to continue to help the foster children in need. The idea came after students read a book about Michael Oher, foster child turned professional athlete, as part of the "One Book, One School" summer reading program. For more on the school supply drive, click here.
Students and families can donate stocking stuffers at St. Edward through December 6th. Please consider helping with this service project.