Catchy, but not in a good way: Christmas edition
With every good song, there's always a bad one to go with it, and Christmas songs are no exception. Some dread hearing Mariah Carey's "All I Want for Christmas is You", while others wait to hear it play on the radio. Everyone has a favorite Christmas song, so how about switching things up a bit and picking a least favorite?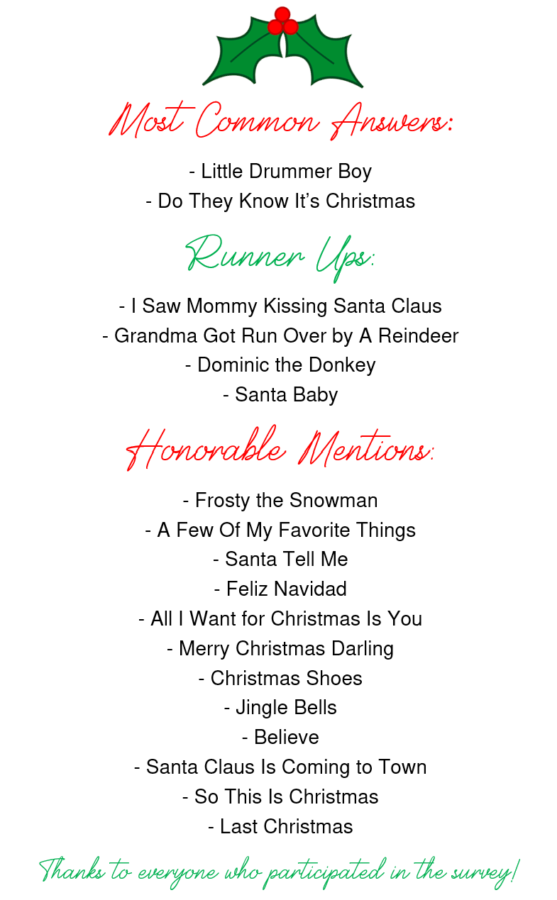 The students at St. Edward definitely had some least favorites. Roksana Prybos, '25, and Sophie Holland, '26, said that "I Saw Mommy Kissing Santa Claus" is their least favorite Christmas song. Kaden Bergholt ('26) states "Jingle Bells" because it's played way too much and it's a Thanksgiving song rather than a Christmas song". Mrs. Schmidt says one of hers is "Last Christmas" by Wham! because "I don't think it's possible to go a day in December without hearing it at least once". And Mr. Brieger says that his is "the TOTALLY not a Christmas song from the TOTALLY not a Christmas movie Sound of Music – 'My Favorite things'."  Surprisingly, lots of other Christmas "classics" popped up. The survey revealed that not everybody has the same tastes when it comes to holiday music.
But what's the least liked overall? There are 9,274 Christmas songs in the world, so there are lots of options to choose from. But even among all the blogs and news articles on Google, the internet couldn't seem to agree on just one song. But on almost every list, there were these 6 songs:
"Wonderful Christmastime"
"Santa, Baby"
"Christmas Shoes"
"Christmas Tree"
"I Saw Mommy Kissing Santa Claus"
"Grandma Got Run Over by A Reindeer"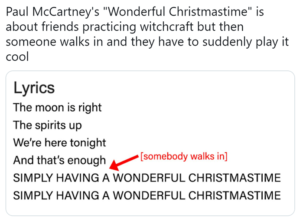 Surprisingly, lots of people hate these songs for the same reason: the person who sings the song. For example, some enjoy Eartha Kitt's version of "Santa Baby", but Michael Bublé's rendition of it doesn't have the same ring to it. The Rolling Stone says that Elmo & Patsy's "Grandma Got Run Over by A Reindeer" is "undoubtedly one of the darkest [songs] in the carol canon". Even the delivery of the song can make it sound terrible, like the Jackson 5's "I Saw Mommy Kissing Santa Claus". Many also agree that Lady Gaga's version of "Christmas Tree" is just awful. And if you want to hear a song that's terrible overall, "Christmas Shoes" is the way to go. Do you want to hear a Christmas song about a boy's mom laying on her deathbed with a new pair of shoes before she meets Jesus? Didn't think so. Slant Magazine and lots of people agree that "NewSong's contribution to Christmas music has ruined the holiday season for millions of people around the world".
Want to make your ears bleed just for fun? Check out these songs! Apologies in advance.
"Santa Baby" (Michael Buble)
"Christmas Tree" (Lady Gaga)
"Christmas Shoes" (NewSong)
"I Saw Mommy Kissing Santa Claus" (Jackson 5)
"Grandma Got Run Over by A Reindeer" (Elmo & Patsy)
"Wonderful Christmastime" (Paul McCartney)