Skating into Christmastime
Christmas has taken a turn from what it used to celebrate.  Now, it is a time of year when people decorate trees with colorful ornaments, buy gifts for friends and family, try the latest Starbucks Christmas drink, and see countless Christmas-themed advertisements everywhere they go. Elves work in Santa's workshop and watch over kids on shelves, and Santa checks his list to make sure if kids are naughty or nice.
For Christians, Christmas is the day that Jesus was born in Bethlehem and one of the most important days on the church calendar. Other early Christmas celebrations can be traced back to festivals thrown by Romans and Europeans. They were meant to mark the winter solstice and the end of the harvest season. Modern-day traditions such as Christmas carols, gift-giving, and tree decorating derive from these early celebrations. St. Nicholas, the patron saint of children and the poor, is believed to have deepened the holiday since he used to generously give gifts to the needy.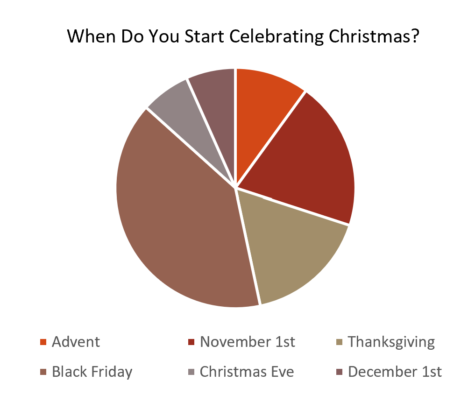 Many people start celebrating the Christmas season at various times. Charlotte Mina, '26, says she begins "As soon as either the radio changes over to Christmas or after Thanksgiving." Mr. Brieger starts celebrating "By November 1 at the LATEST!" Overall, Black Friday was the time most people get into the holiday spirit and begin to celebrate it. "After Thanksgiving. Black Friday is when the Christmas decorations start to come out," Logan Mallory, '25, says. Sophia Reich, '26, believes that "if you start celebrating Christmas too early it dies out. Like if I were to start listening to Christmas music actively right now, I will 100% be tired of it by Christmas."
Ms. Buehler says that she starts celebrating Christmas before the first Sunday of Advent. This is because she celebrates "Toten Sonntag", a traditional German holiday. "Generally, it is a very sad day, many people spend it with those they love remembering those that have passed away," she says. "It always falls on the last Sunday before the First Sunday of Advent (always on or between Nov. 20 and Nov. 26). In the German Evangelical Church it is the last Sunday of the liturgical year." It is a federal state holiday in Germany since it is dedicated as a day of mourning – kind of like the German version of the Day of the Dead. She also says that for many, it is the start of the Christmas season. The Toten Sonntag is the start of that season as it always brings families together to remember their deceased ancestors.
No matter how early or late you start celebrating Christmas, there are only 33 days left until Christmas day!