What makes a Thanksgiving dinner?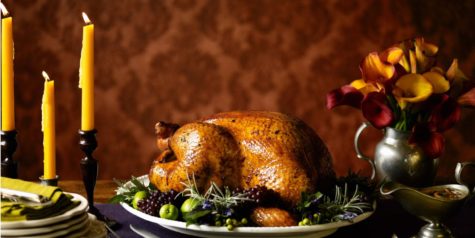 Thanksgiving is the time of year when we take a moment to appreciate the things that we are grateful for in our lives. We think of all the important things we have by celebrating with a dinner that includes all our close family members and friends. The feast usually includes a turkey as the main course and a variety of side dishes, but not everybody celebrates with a turkey as the main dish because they either are vegan or have different family traditions. That begs the question, how does everybody else celebrate Thanksgiving with their families? Which different foods do they prepare each year?
We asked students and teachers from St. Edward to share unique foods that their families make on Thanksgiving. Ms. Buehler has red cabbage at her family thanksgiving dinner and Senior Stephanie DeWitt's mom makes a pumpkin roll for theirs. Many also celebrate with polish foods: Sophomore Roksana Przybos's family has dumplings at their family dinner, Mrs. Mann has Polish Sausage, and Junior Madeline May has pierogis. Other students shared their families' favorite Thanksgiving desserts like Senior Grace Frazier who has ice-cream pies after her Thanksgiving dinner.
Although many students and staff stick to the "traditional" dinner, it was nice to hear from students and staff around the school about some of their favorite unique family foods on Thanksgiving. These families have their own special holiday traditions and that is really what makes a Thanksgiving dinner.