Review of Taylor Swift's tenth studio album Midnights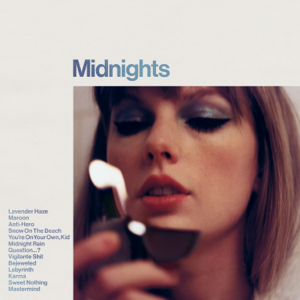 Taylor Swift is an American singer–songwriter with a huge discography of music with hits like "Love Story", "22", "Shake it Off", and "Blank Space".  Although those were some of Taylor's biggest hits, her fans prefer the songs that aren't her 'radio hits'.  What Taylor is most known for is her songwriting. Her fans love her vulnerability and relatability that she writes with and that is why people feel like they have a special connection with her through her music. That is why currently fans and even many others are taking a moment to celebrate her 10th studio album.
Taylor Swift is hitting a huge milestone in her career. On October 21, 2022, Taylor released her tenth studio album Midnights since her 9th album 'evermore' that was nominated for Album of the Year last year. Taylor has mastered many genres in her music career, from her start in country, pop, alternative, and folk.  Taylor Swift announced her brand new album at the 2022 MTV Video Music Awards while accepting her award for video of the year "All Too Well: The Short Film". She released the Album cover and name of the album that same night on her Instagram.
As people were waiting for the release of Taylor's newest album, Taylor started a series on TikTok called "Midnights Mayhem With Me" where every other night at midnight with the exclusion of Saturday and Sunday nights, she would reveal a track title from her album. Overall, her album has a sum of 13 tracks, which is Taylor Swift's shortest album yet. After all the mayhem of revealing track names, the songs that people were most excited to hear was her collaboration with singer Lana Del Rey called "Snow On The Beach", (which is something many have been waiting for), her song "Sweet Nothing" written by her and her partner Joe Alwyn, and "Karma".
Swift describes the album as, "the stories of 13 sleepless nights scattered throughout my life."
After listening to the album, I would say it is a mix of Pop and Alternative. My personal favorites are "Lavender Haze", "You're On Your Own, Kid", "Snow On The Beach" and "Labyrinth". I would recommend hearing the album from start to finish; I would say it's a very cohesive album – but not too cohesive that it all sounds the same. I think this is the perfect 10th album for Taylor Swift.