Apple's iPhone 14 lineup: has anything changed?
The iPhone 14 lineup was announced on September 16th last month, a part of Apple's yearly iPhone release. The lineup this year includes the iPhone 14, iPhone 14 Plus, iPhone 14 Pro, & iPhone 14 Pro Max. What's different about the new models? Is there any difference between the new lineup and the iPhone 13 lineup? Let's take a look.  
The size of the screen has slightly increased with a super retina display. The camera can now take better low-light photos and True Depth, along with a cinematic mode and sports mode. The chip in the device is the same as the iPhone 13, but the design has been updated to provide a "fluid-like" experience. SIM trays are gone as well, and are replaced with an eSIM that supports multiple data plans & phone numbers, and can't be removed if the phone gets stolen or lost. Apple also added a feature that can detect severe car crashes and call the police if you get into an accident.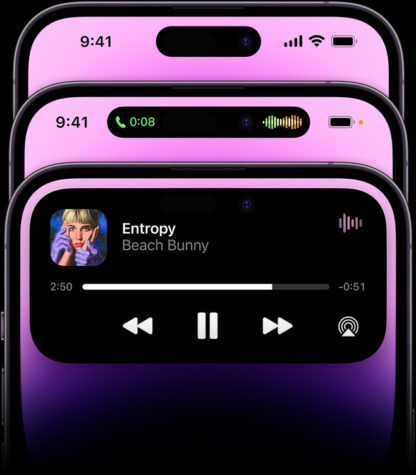 The iPhone 14 Pro & Pro Max also have the "dynamic island". This feature allows users to seamlessly go in and out of apps with an interactive bar. For example, you can be texting someone, and you can see how much longer you have left until you reach a destination. Apple claims that this is the biggest change to the iPhone since they went full screen & got rid of the home button.  
Sales for the iPhone 14 & iPhone 14 Plus haven't been high, but there's an increase in demand for the iPhone 14 Pro & iPhone 14 Pro Max. Apple suppliers say that based on a supply chain survey, they expect 85% of iPhone users to switch to one of the two pro models. Another insider says that some iPhone 14 production lines have been transferred to make more iPhone 14 Pros. Both pro models are now on backorder until early November, maybe even later. Another factor is where the phone is being bought from since there's different supply and demand for stores, like Apple and Best Buy, or carriers like Verizon, AT&T, & T-Mobile. So, if you want to buy one of the new models from the iPhone 14 lineup, or get one for someone for the holidays, you might be waiting a while.