St. Edward's fine arts festival
St. Edward hosted its annual Fine Arts Festival on April 24th, and it was a great success for our artists and a chance for them to display their hard work and dedication on canvas. For many months, the students of Ms. Kessuvan's art and digital imaging classes have been working tirelessly to put together a well-thought-out and detailed showcase of their greatest works throughout the school year. Each artist has shown an immense amount of creativity, originality, and effort when looking at these art pieces. Here are some of the artists whose work was exhibited at the festival: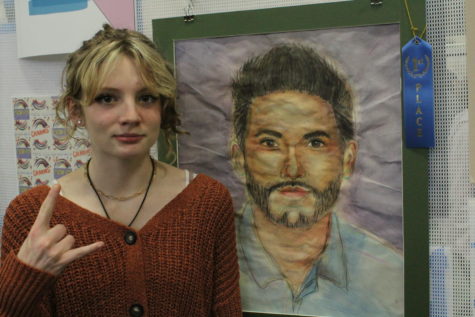 Lucille Foy poses with her "1st Place" portrait of Mr. Macias
"I can take no credit. Profe has the looks and all I did was draw it"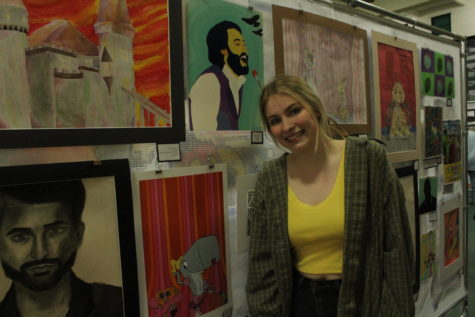 Madeline Stine smiles next to her picture of SpongeBob, Pearl, and Patrick
"I think that it was very nice to have my art displayed and I'm so glad I got to be a part of the Fine Arts Festival"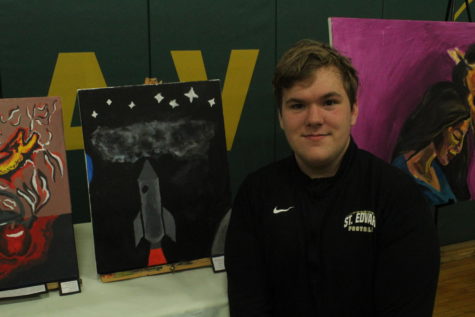 Liam Freeman stands next to his painting of a rocket ship blasting into the sky
"It was the first thing that popped in my mind when I did this, nothing really much to say"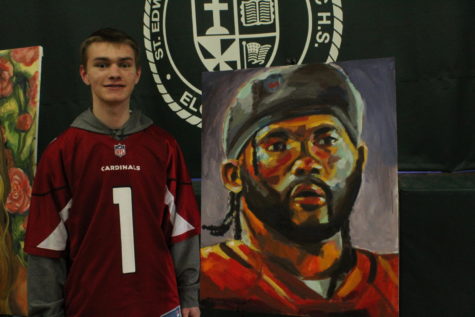 Kyle Schelonka stands proud with his painting of Cardinals Quarterback Kyler Murray
"I thought it was awesome to be able to show off all my hard work that I put in throughout the year."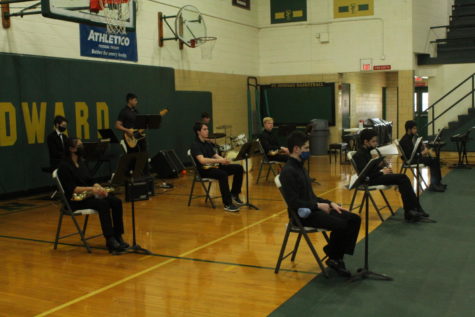 Mr. McLoughlin orchestrates the St. Edward band during the festival.
As shown, we have many talented artists who have found inspiration in something and wanted to perceive it in their own ways. The art doesn't stop there, there are plenty more artists that I haven't mentioned that have done their part in the festival and gave it their all, putting their 100% best effort forward. As successful as the 2022 art festival was this year, we hope that this tradition can continue and be carried on by future art classes.
Photos by Samuel Birdsell.