Spoiler free Sonic the Hedgehog movie review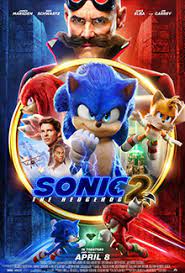 Sonic the Hedgehog 2 is the sequel to the first Sonic movie. It came out Friday, April 8th, 2022. The movie is about 2 hours long and it definitely did not disappoint. After seeing the first Sonic movie I was excited to see the next one because I thought the first movie was great.
I was a little skeptical going into the movie theater to watch this sequel because I was afraid it wouldn't be as good as the first one. But I was wrong. This movie was packed with action and a good storyline like the first one, but I think it was better. It had new characters with new storylines and kept the good humor of the first Sonic movie. Though this is a child-friendly film I thought it brought a cute and entertaining element into the film. An adult might not enjoy this film as much because some parts are definitely cheesy. Another thing I enjoyed about this film is that it was very humorous despite being a film for children.
Overall, I quite enjoyed watching this film and would recommend it to anyone who has seen the Sonic films or wants to watch a cute and light-hearted film with their friends and family.