Touching base with the MLB lockout: An update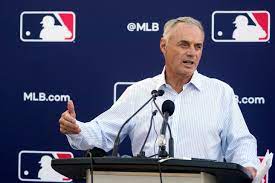 It's been about three months have passed since the MLB lockout began and since then the MLBPA and owners still have not agreed upon a new Collective Bargaining Agreement. The clock is ticking down. As of February 27th, commissioner Robert Manfred reached his deadline to pass the new CBA, but his actions were unsuccessful. The result of this action was that the first two weeks of regular season games have been canceled. No one knows when the first two weeks are supposed to start since there hasn't been an agreement on spring training start times yet. 
On the morning of Tuesday, March 8, 2022, multiple major sports websites such as The Athletic, CBS Sports, and USA Today reported that if a CBA deal was met by that night by the union and owners the regular season games will be postponed another week. Throughout Tuesday, more team owners agreed within themselves not to play the full 162-game season if there is another postponement that night.  
Something that has been agreed upon between the two sides, which isn't as important as the CBA, is newly implemented rule changes which will take effect immediately once spring training finally starts which is estimated to be March 18th. These rule changes include a pitch clock so that way the pitcher can't go too fast or too slow in between pitches. Another change that was made is the banning of shifts, so it is easier to get out against not as talented players. A final rule change made during the first weekend in March was to add larger bases to ensure a safer playing environment and help to eliminate several injuries which occur too often. One more agreement that was reached Tuesday night before the deadline approached was that the MLB is launching a $1M fund for ballpark workers to increase their salaries. It was recently announced that these changes will be experimented with in the minor leagues before permanently being added to the majors.
This was the outcome of the 2022 MLB lockout. The lockout was finally resolved on Thursday, March 10. Trade blocks have started back up and players have began getting ready for their 2022 Spring Training debuts. Lots of trades have happened already within the first week of the lockout being lifted and there is still many more to come.