We love you a latte: Elder and Oat Café review
Elder and Oat is a local coffee shop and micro-bakery located in West Dundee. It opened in 2021 after Craft Donuts closed, leaving the space available for Elder and Oat to make its home. This fun and brightly colored café have a very inviting atmosphere. It has many comfy couches and seats to choose from along with a whole wall of board games up for anyone to play. They regularly host community events on the weekends like movie nights, calligraphy classes, and children's story-time. They even have a window where you can watch the bakers make the bread and pastries. This sweet café has a lot to offer for any local coffee and bread enthusiast.  
Celebration Latte (above image in Elder and Oat Glass):  
Lily – To me this is what that cookie drink at Starbucks should've tasted like. It was sweet without it being overwhelming or too obnoxiously sweet. The whipped cream they used on top of the drink was super thick and sweet. This made me think it was homemade because it didn't melt or dissolve into the drink like the Starbucks whipped cream does.  I also thought the sprinkles were a nice touch because it made the drink a little more colorful. Personally, I am not the biggest fan of sugary coffee drinks so I wouldn't give it a perfect score 
8/10 
Gabby – I really enjoyed this drink; it was delicious and adorable. It was just a regular vanilla latte, but what made it a "celebration" was the whipped cream and sprinkles on top which added the perfect amount of sweetness to the drink without it being too sweet. I am a major fan of sweet, iced drinks so I would definitely get this drink again. Also, it was just so adorable who wouldn't want to drink this.  
9.5/10 
Lavender Latte (above image in the mug):  
Lily – This drink was more refreshing than I thought it would be! You could taste the lavender quite a bit and at one point I did say aloud, "Wow, this tastes like how a lavender candle smells but like in a good way." While the lavender was a lot, I didn't think it overwhelmed the whole drink. However, I think this drink might taste better cold. 
9/10 
Gabby – I was pleasantly surprised with this drink. I wouldn't think I would like coffee and lavender together but it actually goes well together. This drink was also really refreshing as well. It would be the perfect drink to wake you up in the morning. The lavender flavor was not overbearing either, it was just the right amount. I would not order this drink every time, but I think everyone once in a while would be nice.  
8/10  
Apple Cider Donut:  
Lily – It was a good-sized donut, not too big and not too small. I do admire that they make all their pastries homemade. I thought the cinnamon and sugar flavor was awesome but I didn't really taste any apple cider. If it was just a cinnamon and sugar donut, I would've given it a higher score, but it lacked the flavor that it was named after.  
5/10 
Gabby – This donut was pretty good, but it was very sugary which took away from some of the flavor. One thing I wish I did when I got this donut was to ask for it warm. I think the donut would have been much better. Overall, this donut was not bad but I would prefer to get a different one.  
5/10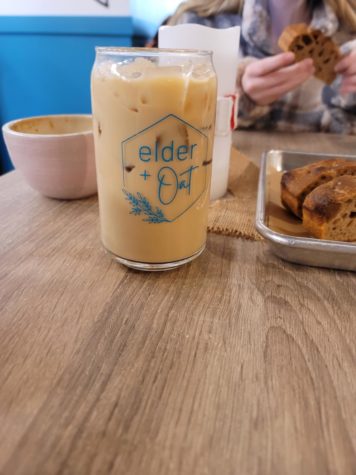 Elder and Oat Latte: 
Lily – I enjoyed this drink quite a bit. For being their signature drink, I thought it worked well as a hot drink and I think it would probably taste good iced too. I don't really know what elder is supposed to taste like and I do agree that it had a not-so-great aftertaste. I still liked the drink and out of the three drinks we tried, it would be my go-to order. It definitely was a little bit bitter, but I like bitter coffee.
8/10 
Gabby – This drink is one of their signature drinks at the cafe. I thought this drink was okay, the flavor was kind of sweet but had a weird aftertaste to it. I think that taste is the "elder" part of the latte which I did not enjoy as much. If I were to get this latte again, I would get this drink iced so I could see if that makes a difference in taste. Overall, this drink was good but it would not be my first pick to order.
6/10 
Plain Focaccia:  
Lily – If there is one thing I love in this world, it is homemade bread, and they really delivered it. For a focaccia bread to be good it has to have a crisp crust and a thicker spongey bread. The bread we got had both of these qualities and it delightfully surprised me because it's not often you find good homemade bread at a café. Another thing I liked was that they gave you three slices per order instead of just one small slice, so the portion was enough to either split or just have it for yourself. Even though we got the plain bread, it had a little bit of sea salt on it that added just enough flavor. It made me want to try their other flavors like rosemary and garlic. 
9/10 
Gabby – For this shop being mostly known for its coffee and bakery treats, I was pleasantly surprised to see focaccia on the menu. The plain focaccia was good. The flavors of this bread weren't too overwhelming and had just the right amount. The only thing I wish is that it came with butter, then it would be perfect.  
8/10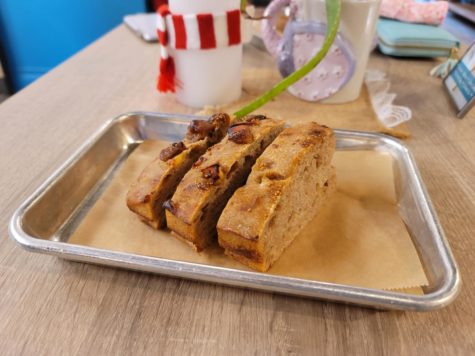 Apple & Fig Focaccia: 
Lily – I really like apples and figs because it creates a sweet and crunch combo, so I had a lot of high hopes for this bread. The focaccia had all the same delicious qualities from the first bread so it's nice that it was consistent. The flavors did work well together, but personally I wish there was more apple and fig on it. There were only a couple of pieces on the top of each slice, so I would've preferred more of the apple and fig combo. 
8/10 
Gabby: I am not the biggest fan of apples or figs, but in this focaccia, I really enjoyed them. I thought these flavors would not work in this bread, but the flavor is delicious. The bread is not too soft, not too hard, which makes it easy to eat. I would definitely try this focaccia again.  
7/10