Touching base with the MLB lockout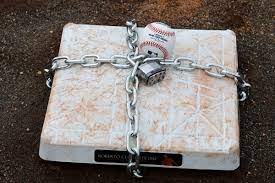 Spring Training is quickly approaching, and the MLB and its upcoming season are in jeopardy. Numbers are still decreasing from the original starting date back at the beginning of December 2021. For those who are unaware, the MLB is in a "lockout" which basically means that no relations or conversations are allowed between the teams and its players. In other words, the Players Association and the MLB are in disagreement with each other over payrolls and the teams' trading blocks. 
The owners of the teams purposely chose to lock out the players once the collective bargaining agreement (CBA) expired. This set up a "stare down" which could threaten the 2022 season. Commissioner Robert Manfred Jr. said in an interview on MLB Network that the lockout is "defensive" and the "best mechanism to protect the '22 season." The Players Association chief, Tony Clark, called the situation, "a drastic and unnecessary measure" and that it will "not affect the players' resolve to reach a fair contract."  
The business industry of the MLB was shut down as well as of early December 2021. No free agent signings, no trading, and no contract extensions are allowed. A new CBA proposal was introduced on January 31, just under a month away from the start of spring training and it was turned down. This causes the relationship between the MLB and MLBPA to grow much colder. 
Players' salaries continue to fall as each day passes with no improvement within the CBA. Spring Training inches closer and closer every day, and the regular season will be on its last strand as the jeopardy will become too difficult to handle in this situation.