Now announcing… the new Press Box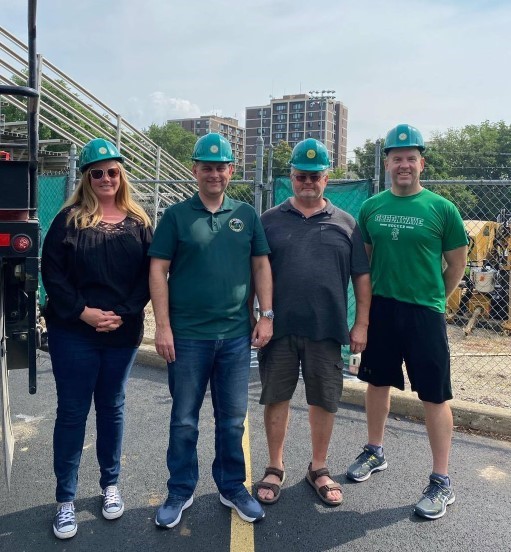 The new Press Box is finally here, well almost. After being delayed because of Covid-19 in May of 2020, construction finally started to take place in July of 2021 to be ready for the upcoming school year. Interest in getting a new press box first took place when the old press box became too old to use for sports games. When drawing up the plans for the new press box, it was specifically designed to be a functional space for coaches and game day personnel. They even got Coach Rolando and Coach Brieger in on the design. "We were able to have Coach Brieger and Coach Rolando involved in the design process which was very beneficial.  As they are the two teams that will use the press box most often it was crucial to have them involved in the design process," said Mr. Tekampe. These plans give us a space that will help bring new energy and excitement during sports games and hopefully build up our program.
With these design plans ready to go, things took a turn for the worse. Covid-19 had caused the construction of the new press box to be delayed several times along with many other factors as well. They were unable to start due to many shortages of building materials and supplies because everything had been backed up from Covid-19. There also was a delay in getting permits for the new building from the City of Elgin. When all these delays have been worked out, we finally got to see progress on the new building this year. There had been hopes that the press box would be completed by Homecoming 2021, but with so many delays this past year that goal was unable to be reached. "It was not ideal to play the games without a press box. I just wished it could've been finished by the time the season was over," said senior Matthew Novelli. Father Blood was still able to bless the press box the night of the homecoming game. Hopefully, by the end of November, we will see our new Press Box down on Greg True Green Field.