Don't be SADD, red ribbon week is here!
SADD club just held its first big awareness week! From October 18th to October 21st, SADD club honored Red Ribbon Week. This was started after the death of Drug Enforcement Administrator Special Agent Enrique "Kiki" Camarena. In 1985, he was brutally tortured and murdered by drug traffickers he was investigating in Mexico. The first Red Ribbon Week was held in 1988 by President Reagan. SADD club moderator, Ms. Weber, says "Red Ribbon Week is the nation's oldest and largest anti-drug campaign. SADD wanted to take this opportunity to spread awareness about the impact drugs can have on a community, as well as honor those who have lost their lives in the fight against drugs. A lot of students came out to participate in all sorts of activities, like wearing their ribbons and thinking about future goals–it was a great turn out and we had a lot of fun!"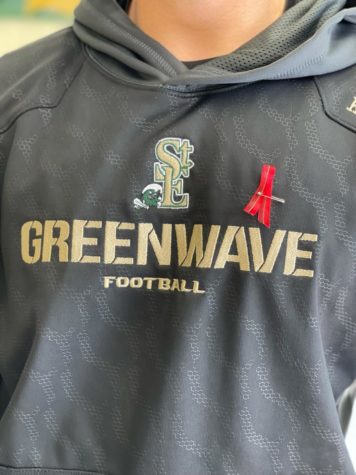 SADD club started off the week on Monday by passing out red ribbons to students first period for them to put on their shirts, lanyards, or backpacks. Wearing red ribbons during the month of October represents the pledge to live drug free and honor the sacrifices of all of those who have lost their lives in the fight against drugs. On Tuesday, SADD club showed a video at lunch about drug awareness. After watching the video, students wrote one goal they had for their future on sticky notes which were hung around the school.
On Wednesday, drug-awareness statistics were announced over the intercom every period. These statistics were announced by various members of SADD club. At the end of the day, students completed a fun quiz, testing their knowledge on the statistics read throughout the day. There was also a poster decorating contest held for each grade throughout Red Ribbon Week. Students from each grade were encouraged to get together and make an anti-drug poster to win a prize. The winners of the contest were the Sophomore and Senior class! Anyone who participated in the contest got a donut from Ms. Weber!
To end off Red Ribbon Week, SADD club held a dress-down day. For students to participate, they would give $2 to Ms. Weber for a full dress down on Thursday. This money is being used for purchasing the raffle prizes at the end of the year and any extra money will be donated to a SADD charity. Students wore red to show their support for red ribbon week. SADD club President, Ashley Mahute, states that "I really enjoyed coming up with activities for this week and seeing so many people participate, this was a good first activity I had as president". Many students participated during this week, making this a successful Red Ribbon Week.