New electives coming to St. Edward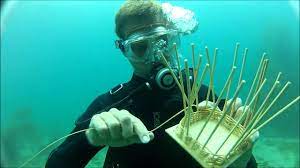 Have you ever wanted to take a fun, different elective at St. Edward? Starting next school year, St. Edward will be offering three new elective courses for the 2021-2022 school year. The new electives that will be offered are Intro to Scrapbooking, Underwater Basket Weaving, and Honors Space Geometry. Intro to Scrapbooking is available for all students to take this upcoming year and will be a two-semester class. In the class, you will learn the basic techniques that help you to create the perfect scrapbook. Underwater Basket Weaving will only be available to juniors and seniors and will be a semester-long class. Each student will be required to take a swimming test to ensure safety. In the class, students will learn the art of basket weaving while being underwater. The last elective that will be offered is Honors Space Geometry. This class will only be offered to seniors and will be two semesters long. In the class, students will learn how geometry is used in space.
Who is teaching these new classes? Many St. Edward teachers have already agreed to teach these new electives for the next school year. Mr. Bim will teach the Intro to Scrapbooking class because of his previous experience working on the yearbook. "I was really excited they offered me to teach the Intro to Scrapbooking class. I can't wait to show my students the art of scrapbooking," said Mr. Bim. Coach Aydt will be teaching the Underwater Basket Weaving course because he coaches the St. Edward swim team. Coach Aydt said, "With the new pool being built in the lower gym, I couldn't turn down teaching this new course." St. Edward has not actually found a teacher to teach Space Geometry yet and is hoping to fill the position by the 2021-2022 school year. With all these new electives coming to St. Edward this next year, we hope that many students get excited to take these new courses and enjoy them.