Conner McGregor vs. Dustin Poirier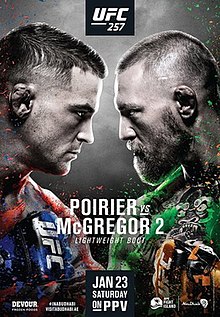 UFC 257 happen on January 23, 2021. It featured the return of "the notorious" Connor McGregor after a year of retirement fighting the young but also infamous Dustin Poirier. Some other notable fights were the co-main event between newcomer Michael Chandler versus the already proven, Dan Hooker. But it would not be UFC if the women's division was not included; one notable fight was the flyweight bout between Jessica Eye and Joan Calderwood. Overall, UCF 25 was one to remember but in the end, there can only be one winner.
In the first bout of the evening, it was Mariana Rodriguez vs. Amanda Ribas. It was a hard fight in which both competitors took blows, but in the end, Rodriguez prevailed with a second-round TKO at exactly 0:54.  The second fight of the night was a bruiser match between Russian mixed martial artist Mahmud Muradov against Illinois native, Andrew Sanchez. In this fight, we saw a lot of punches and grappling but in the end the Russian got it done with a third-round TKO at 2:59. Up next, was the co-main event of the evening. It featured newcomer Michael Chandler to the octagon versus long time veteran Dan Hooker. Michael Chandler, although a rookie, was ready to put the hurt on Dan Hooker, and put the hurt on he did.  The fight only lasted one round, being the quickest fight on the night.  The fight ended with a TKO from Chandler to Hooker, making him undefeated in his first ever UFC match. The main event of the evening was up next, and it did not disappoint.
For McGregor, it would be his comeback match, after retiring for close to a year, and for Poirier, it would be his redemption match after losing to McGregor back in 2014.  Although many people thought McGregor was going to clean house as he did prior with a first-round knockout, it did not pan out this way. The first round was a calculated assault by Poirier to McGregor's legs and as the second round started, McGregor had no choice but to brace himself against the cage. But due to Poirier's brawler-type fighting style, it was only a matter of time before his heavy hits connected, giving Poirier the victory with a second-round TKO.