You're the icing on the cake
Have you been wondering which Valentine's Day treats to make this year? We are here to help guide you and suggest a couple amazing recipes!
Rice Krispie Hearts
Rice Krispie Treats are some of the easiest treats to make and very delicious! I decided it would be so fun to use a heart shaped cookie cutter to make the treats into little hearts. If you do not have one, don't worry, they will still be a festive pink or red color! What you will need for this recipe is: ¼ cup butter, 5 cups mini marshmallows, 6 cups Rice Krispie cereal, sprinkles, and frosting of your choice. First, melt the butter over medium heat into a large saucepan or pot. Next, add marshmallows and stir until they are melted. Next, pour the rice cereal and stir until it is fully coated. Then, pour the marshmallow treats into a 9×13 inch baking pan, and press down to make it even. After pressing, allow it to cool before cutting it into bars or shapes. Place these onto wax paper and decorate with frosting and sprinkles. "Rice Krispie treats are one of the easiest dessert treats to make in the world" (Robinson, lmld.org). Another super easy recipe would be Valentine's Day themed cupcakes! My favorite is the Pillsbury's strawberry cake mix. You can buy this at any local grocery store, and all you need to add is 1 cup water, 1/2 cup of vegetable oil, and 3 eggs! First, you want to set your oven to 350 degrees. Make sure to coat your pan with no-stick spray unless you have cupcake liners. Then, mix the cake mix, water, oil, and eggs in a bowl with mixer on medium speed for 2 minutes (I used a spoon). Next, pour the batter into the cupcake pan. Bake for 19-23 minutes for 24 cupcakes. If desired, feel free to buy pink/red frosting and sprinkles, or even fun heart cupcake liners for an adorable presentation! Heart-shaped pans have been very popular recently in social media, and if you happen to have one, using this recipe would also be an amazing idea to create a heart shaped cake!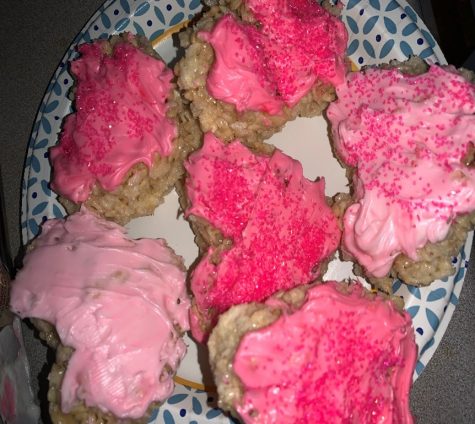 Heart Cake
For this recipe you will need 4 eggs, 2 ½ cups of all-purpose flour, 2 ½ tsp of baking powder, 1 ½ cups of sugar, ½ tsp salt, ¾ cups of unsalted butter (at room temperature), 3 tbsp of vegetable oil, 1tbsp of vanilla exact, and 1 ¼ cups milk. First you mix the flour, baking powder and salt in a medium sized bowl. Next, you add the butter, sugar, oil and vanilla extract to a large bowl and mix. Next add the eggs one by one and continue to mix.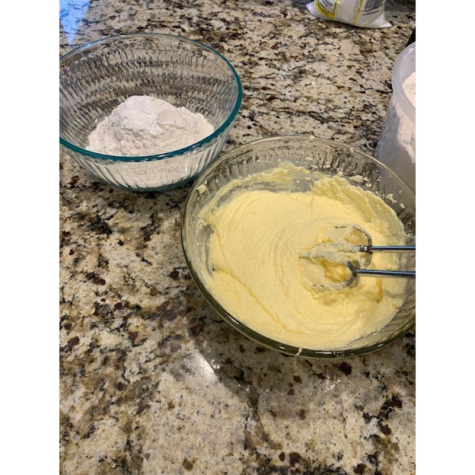 Then, add half the dry ingredients while still mixing next add the milk little by little and after, the rest of the dry ingredients. Next you divide the batter evenly between three heart shaped pans. Bake for 22-25 minutes, and make sure they are done by sticking a toothpick in the middle. If there are crumbs sticking to it, the cake is done. After you take the cake out, let it cool for about 10 minutes. Next you level the cake and frost in between as well as the top of the cake and decorate to your liking.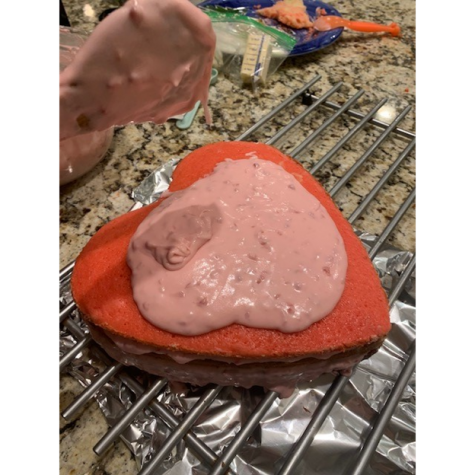 I dyed the 1st and 3rd layers red and used pink frosting since this cake was Valentine's Day-themed.