Check out the new Chick-fil-A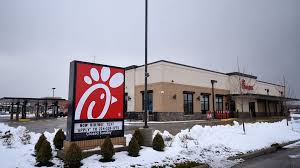 Have you ever been craving Chick-fil-A but you did not want to drive an hour to get some? Well, now you do not have to! A new Chick-fil-A has recently opened in Elgin on Thursday, January 21.  Phil Tuttle, a local Chick-fil-A franchise owner, will be one of the owners of the new Elgin Chick-fil-A. Tuttle stated, "I am excited to join the Elgin community, and I look forward to helping my team members reach their personal and career goals and to offer care to all who come in contact with my restaurant." Tuttle will be employing about a hundred full-time and part-time employees for the opening of the new chain. It will currently be open for drive-thru service and mobile pick-up orders and later dine-in will be an available option shortly after opening.
On the opening day of the new franchise, there were tons of people eagerly waiting in line to be the first to try the food from the new location. Long lines were being formed around the building even before opening started. Even with all the people flocking there, the lines were going by pretty quickly for just opening that day. "I was shocked that the line was going so quickly, especially since many other people were also in the line," says junior student Emily Sarullo. Many people seem to be enjoying the food service because the line is still long even after a week after the opening. Hopefully, we get to see this new Chick-fil-A do well in the future so we can all enjoy their great food.