Say goodbye to the 6 a.m. lines and hello to 6 feet apart
How Black Friday is getting a "pandemic-induced" makeover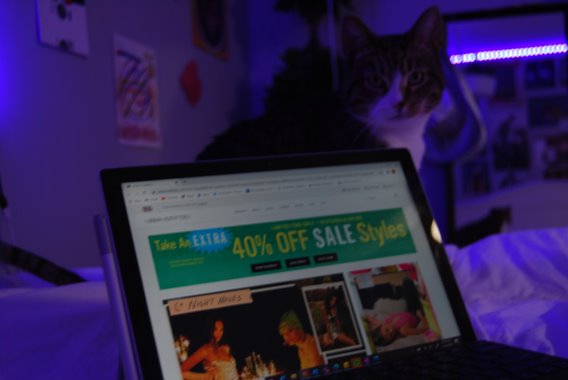 COVID-19 has impacted businesses' all over the world, but especially those who celebrate the annual, "holiday" of Black Friday. Black Friday refers to the day after Thanksgiving and can symbolically be seen as the start of the holiday shopping season. It is said that Black Friday got its name from a historical date in 1869 in which the price of gold tanked and stock markets tumbled in response. Many stores this year have decided that due to COVID-19 precautions, Black Friday is canceled. What normally would lead aggressive shoppers to spend the night of Thanksgiving outside in tents in front of stores such as Apple and Best Buy might lead these very same people a good night's rest on their couches glued to their computers waiting for the virtual best deals.  
According to Neil Saunders, a retail analyst, and managing director at Global Data Retail,  previously told CNN Business, "Black Friday has definitely transitioned more into a digital affair in the past five years," he stated adding, "The focal point is not that single day anymore. It's an event spread out over several days." Neil Saunders could be referring to online shopper's favorite "holiday," Cyber Monday, which this year might be a dragged-out Black Friday. Cyber Monday refers to the Monday after the Thanksgiving holiday where many stores refer to their online websites to bring in sales.  
According to CNN, the shopping spectacular, Black Friday, is getting a "pandemic-induced" makeover. Many major retailers are starting their sales earlier than ever and ending them later. Retailers are doing this because they are concerned about their ability to follow all the set COVID-19 restrictions. Such restrictions include large gatherings being limited to 25 people, all shoppers or personal in the store to wear masks, and for everyone to remain 6 feet apart. These restrictions in place may negatively affect retailers which are leading them to expand their sale times and offering different ways for customers to buy their products. Such ways include curbside pickup and delivery options. Options such as these will help retailers avoid large crowds and keep people safe by staying home and ordering online, or through the retailer's app.  
 It is stated that nearly 51% of shoppers feel anxious about shopping in-store during the holidays and 64% of what there, "normal" holiday budget is expected to be spent online, according to a new shopping survey from Deloitte. Many shoppers would rather stay home to be safe this year and catch the deals online than risk their health by standing in already over crowed lines. Popular malls such as Woodfield and Oak Brook have already announced that their hours will be reduced, and some stores may not open at all. Although this may affect some retailers it is not brand new to this way of shopping, many retailers started to close during Thanksgiving starting back in 2019 to give their employees more quality time with their families.  
 Although during this holiday season Black Friday and Cyber Monday seem to be what all people care about, Thanksgiving is a time to be thankful for what we have. Bill Gates once said, "You may have heard of Black Friday and Cyber Monday. There's another day you might want to know about: Giving Tuesday. The idea is pretty straightforward. On the Tuesday after Thanksgiving, shoppers take a break from their gift-buying and donate what they can to charity." Giving Tuesday is another, "holiday" that not too many people know about. Giving Tuesday is a day to give back to those around you who do not have as much as you do. Giving Tuesday will be especially important this year due to how COVID-19 has impacted some families.