Ariana Grande: Positions Album Review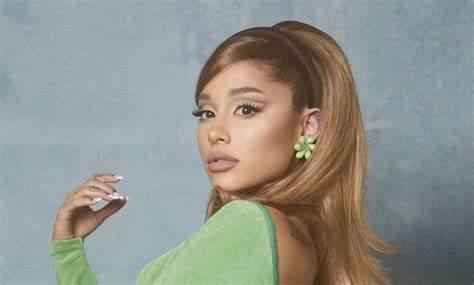 Grace Enright, Yearbook Copy Editor and Social Media
November 24, 2020
October 30th may have been an exciting day for many students.  If you don't know why, Ariana Grande released her sixth studio album, Positions. Ariana Grande, who most of you may know, is a pop music sensation, and is most known for hit songs like "Problem", "Thank U, Next", "Stuck with U", and "Dangerous Woman". Ariana started her career off as an actress on Broadway, which led her to a huge role as "Cat" on TV's popular show, Victorious.
Before the album, on October 23, Ariana released her single "Positions", (which shares the name of the album) and now has over 100 million listens. The song has a very catchy chorus, with a backstory of the singer celebrating her newfound love, the opening line being "Heaven sent you to me."  Ariana's fans started calling themselves the Ariana Army, and then the Tiny Elephants, before they found the perfect name for their fanbase: Arianators.  The Arianators were grateful for a new album that has been rumored to be about her most recent boyfriend; Dalton Gomez.  Ariana has said that her and Dalton have become very close after having to self-quarantine together. The single has also made a drastic appearance on Tik Tok, because of someone who created a popular trend to the song.
Prior to the album Positions, her most recent album Thank U, Next had tremendous success, reaching 2 billion streams. This album is much more R&B than some of her previous "pop" albums. There were a few exciting collaborations on this album including: The Weeknd, Ty Dolla $ign, and Doja Cat. If you have not gotten the opportunity to listen to the album yet, I would recommend starting from beginning to finish. Ariana has developed a stigma where people claim "all of her music sounds the same", but after listening to Positions multiple times, I don't think any song on the album sounds too similar to another.
In September of 2018, Ariana's ex-boyfriend, Mac Miller, an American rapper passed away from an accidental drug overdose.  The album Thank U, Next encompassed many Miller references, and the references seem to continue throughout Positions as well.   Unlike In "off the table" the pop star sings "Will I ever love the same way again?".  In "just like magic, Ariana sings about writing "love letters to heaven". Mac Miller fans and Ariana stans appreciated these sincere mentions. Ariana commonly uses all lowercase for her songs, just because of her stylistic preference. My personal favorite songs would have to be "off the table", "obvious", "pov", and "six thirty". Although these are my top choices, there is not a song on the album I dislike. If you are more into soul, and R&B, I would recommend "off the table", "love language", and "my hair".  Behind Positions, 34+35, and motive are the most listened to on the Spotify charts.
On October 30th, Ariana tweeted "floating/ processing/ thankful/ don't have words yet but I love u v much." The Arianators had quick feedback of love and gratitude toward Ariana and the album. "Her greatest album to date" commented Frankie Grande, the artist's brother. "Positions" gives her fans a clear representation that she has grown from the past and has matured immensely. Ariana tends to take personal and deep issues and eloquently sing them with grace. Positions was a completely different sound than her five previous studio albums, but I think that it served her voice well and I enjoy that she is constantly changing her style of music and tone of voice.