From Russia to America…an Adoption Story
From Russia to America…an Adoption Story
"My whole family thought that adoption was a good idea and supported it 100 percent," St. Edward High School senior Alex Burton stated. Over the past decade, more than 15,000 children were given the chance they deserve to be loved and to reach their fullest potential due to adoption. Five million American citizens report that they are adoptees. Adoption is the process of legally taking another's child and bringing them up as one's own. It is said that nearly 29% of children up for adoption will spend three years in foster care, a program that is meant to be a temporary arrangement in which trained caregivers provide for the care of a child when their biological parent(s) are unable to care for them. Adoption is a beautiful thing and gives every child the chances they deserve in life. Burton spent time talking with me about his adoption story in Dec. 2019. (https://www2.illinois.gov/dcfs/lovinghomes/adoption/Pages/default.aspx)
St. Edward senior, Alex Burton, now 18, was adopted around the age of 2 from Petropavlovsk-Kamchatsky, Russia. Although Burton doesn't know much about his biological siblings, through adoption he has a brother that has loved him ever since he came to America. Burton said that many of his family members are now thinking of adopting children from places such as Hungry because they were inspired by his story. "I think adoption is a very cool process and yes, I would adopt in my future," Burton commented, when asked about how he feels about the option to adopt a child.
U.S Presidents, celebrities, and even everyday people all around us have been adopted. U.S President Bill Clinton stated, "We must work tirelessly to make sure that every boy and girl in America who is up for adoption has a family waiting to reach him or her. This is a season of miracles, and perhaps there is no greater miracle than finding a loving home for a child who needs one." Russia has since closed its doors to Americans adopting children from there.
The law stating this was signed by Russian President Vladimir Putin on Dec. 28, 2012. International adoptions from other countries have continued to be a way to provide a loving home for a child in need. Many American families also adopt domestically or through the foster care program when parents are not fit to care for their children.
Leave a Comment
About the Contributor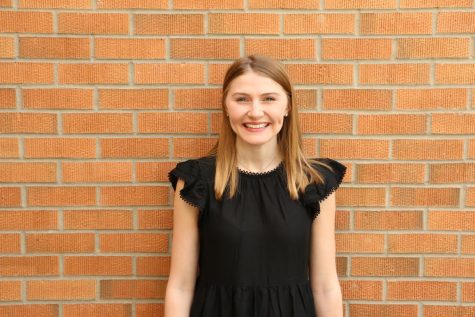 Madison O'Connell, Managing Editor
Maddey O'Connell fell in love with her Journalism class in her junior year of high school. She wanted to spend her senior year continuing her skills...