Math teacher returns to St. Edward
Math teacher returns to St. Edward
After years of teaching middle school kids, Mrs. Bergeron came back to teach at the highschool level she prefers. She's very happy to be back and is highly connected to St. Edward. Since she's been back, she said there have been a lot of changes in the faculty and schedule but everything else is the same.
Mrs. Bergeron found her passion for teaching by being inspired by another math teacher she had her senior year of high school. Although her favorite school memories were in art class, she realized that teaching math was her passion and wanted to be just like her senior math teacher. Both teachers were full of energy and dedicated and role models for Mrs. Bergeron, She graduated from Benedict University where she majored in math and worked with kids. "Working with kids feels good when students are smiling and understand math."
Catholic faith goes way back in her family from when she started at a Catholic grade school. Her family is the most special part of her. Although her kids attended public schools, they were very active in their youth ministry. She prefers being in a Catholic environment to teach and she finds great joy in teaching at Catholic schools because she likes how she can pray more openly and use Jesus as a model.
Other than teaching math, she is active outside of the classroom. In her free time she enjoys playing the piano on Sunday Mass and likes to bake. Other than loving her hobbies, she loves seeing kids learn, enjoy her class, and graduate with success in math. "The best advice I can give to those going into college and their future is to stay true to their beliefs, be kind, and be service minded."
Leave a Comment
About the Contributor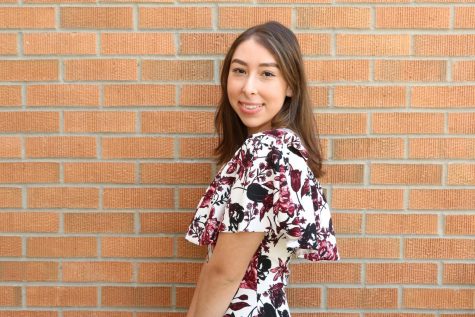 Rachel Hernandez, Social Media Editor
Rachel Hernandez is involved in a lot of extra-curriculars. She is a Catholic Outreach leader at school and is also in Interact and Art club. She is not...