Science department welcomes Mr. Driscoll
You may have met Mr. Driscoll last year if you attended prom. Ironically, he was one of the bus drivers who drove us to the banquet hall. He in fact works at Brookfield Zoo as his side job in the summer and works there on the weekends too! He says that he started working there because he was looking for a way to make money in the summertime because obviously being a teacher, you have a lot of free time in the summer while school is not in session.
Before getting a job at St. Ed's, Mr. Driscoll worked at Frassati Catholic Academy in Wauconda. There, he taught middle school science for five years. You may wonder why he decided to leave a job he's been at for a long time and come to St. Ed's. His reason being he always wanted to teach at a high school level. So, he saw the job opening and applied.
Although he taught at a Catholic school before, he still had to adapt to a lot. Teaching in a high school setting rather than a middle school is as challenging as it sounds. The students definitely act and behave in different ways, so he had to get used to that.
Something that remained the same was teaching in private schools. Mr. Driscoll was asked if it's more beneficial to teach in a private school environment rather than public school, he said it's "definitely beneficial. The students get to set the example of what it's like to live through Christ, serving & respecting other people as well."
Mr. Driscoll attended Addison Trail High School in Addison, IL. He said his favorite high school memory was every spring break his choir took a trip to Florida and one year they traveled to New Orlean's. On their trips, they sang at churches and with other choirs.
Today, Mr. Driscoll is still involved in singing in the choir. One of his hobbies is singing at his local church with his wife on Sundays.
After graduating from Addison Trail, he attended the University of Illinois at Chicago. But from college it was very difficult to find a job, "I started working at Walgreens, Blockbuster, and my wife & I opened a few convenience stores to make some money." But after he realized he wanted to start teaching, he earned his certification at Quincy University.
Mr. Driscoll realized that his passion was teaching. His favorite thing about teaching is interacting with students and having them thing about things they've never really thought about before. Mr. Driscoll loves seeing his students understand the topics he discusses in class because it makes him feel accomplished at what he does.
Leave a Comment
About the Contributor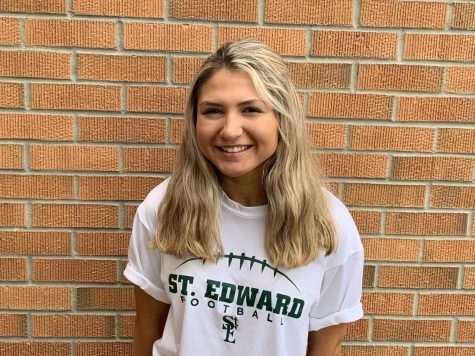 Natalie Stras, Reporter
Hi everyone, It's Nat! I'm vey excited to be apart of The Edge this year and to start writing! Some things you may not know about me is that I love iced...