Lt. Joe Gliniewicz: Not the Officer We Thought We Knew
The man who was hailed as a hero and a great police officer has startling accusations being brought against him. On September 1, Lt. Joe Gliniewicz was thought to be murdered while in the line of duty. In reality, his death was "a carefully staged suicide," said George Filenko, the Lake County Major Crimes Task Force commander, on November 4, 2015.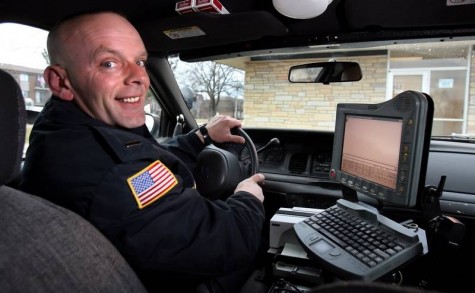 Lt. Gliniewicz was stealing and laundering money from the Explorers program for at least seven years, using the money to pay his mortgage, travel expenses, gym memberships, adult websites, and loans. Upon recovering text messages deleted from his phone, and also recovering emails and bank records, investigators have found Lt. Gliniewicz was in contact with two other people that knew of his whereabouts.
The estimated amount stolen is around five figures and Lt. Gliniewicz forged signatures to get away with his crimes. He staged the crime scene with his pepper spray, baton, and glasses all strategically placed to make it look like his suicide was a murder.
Lt. Gliniewicz had staged his death to make it look like a murder scene. He had felt the pressure from investigators who were looking over where the funds from the Explorers program was going, and knew they were close to finding him out through a village audit.
"Gliniewicz committed the ultimate betrayal to the citizens he served and the entire law enforcement community. The facts of his actions proved he behaved for years in a manner completely contrary to the image he portrayed," Filenko told reporters.
Lt. Gliniewicz's wife, Melodie, and son, D.J., are under investigation for involvement in his crimes according to ABC 7Chicago. And the three men Lt. Gliniewicz was chasing on foot. "They were probably made up," said Filenko. Just another part of his elaborate ruse.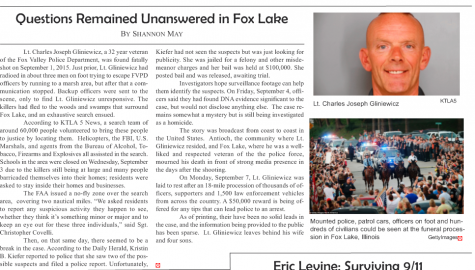 The massive manhunt that ensued after Lt. Gliniewicz's death caused many homes, businesses, and schools to lock down and brought many federal investigators to the scene. The FBI determined there was no struggle at the scene even though many objects were scattered around. The other evidence points to no sign of a struggle on Lt. Gliniewicz's or the supposed perpetrators part, his body was left where he was shot, and the murder weapon, a .40-caliber semiautomatic pistol, was found less than three feet from his body.
At a press conference Filenko dismissed any claims that they mislead the public about Lt. Gliniewicz's death. "We did not know. [We] never intended to mislead the public," he stated.