Dilly Dallying on the Defense Budget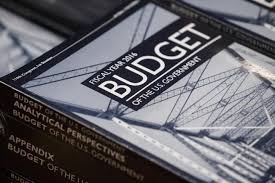 President Obama is done with the short term resolutions and wanted to establish a budget before he leaves office. Obama stressed the importance of creating a long-term plan to help give America's economy a push into the right direction. President Obama had signed a short-term spending plan or a "continuing resolution"(CR) that congress had made to direct spending for the next 10 weeks.  The final budget must be ready to be put into effect by December 11th or another short-term budget will have to be passed. "I will not sign another short-sighted spending bill like the one Congress sent me this week," [Obama] said. "We purchaded ourselves 10 additional weeks; we need to use them effectively."
"This is not the way the United States should be operating," the president said. "Oftentimes, I hear from folks up on Capitol Hill [about] the need for American leadership, the need for America to be No. 1. Well, you know what? Around the globe, part of what makes us a leader is when we govern effectively and we keep our own house in order and we pass budgets and we can engage in long-term planning, and we can invest in the things that are important for the future. That's U.S. leadership."
The most controversial aspect to the 2016 Fiscal Year Budget was the money set aside for the Department of Defense.  Keeping Americans safe is the number one priority for the U.S. Government.  The Budget for Keeping Americans Safe at Home and Abroad in the first proposed bill was set at 612 billion dollars. The President's veto had sent congress a message they did not want to receive.  Republican speaker of The House of Representatives, John Boehner, argues "By placing domestic politics ahead of our troops, President Obama had put America's national security at risk." One of President Obama's main concerns with the bill was its funding for the National Defense Authorization Act (NDAA). The NDAA will limit The President's ability to shut down the Guantanamo Bay Detention Center before he leaves office. "Guantanamo is one of the premier mechanisms for jihadists to recruit," he told reporters at a rare White House veto signing ceremony. It's time for us to close it. It's outdated, it's expensive, it's been there for years. We can do better in terms of keeping Americans safe while making sure that we are consistent with our values," he said. Shutting the detention center down had been a promise since his campaign in 2008.
President Obama stressed the importance of having a budget that balances major priorities. One of President Obama's main goals is to redirect spending to needed projects such as building a better economy. "Let's have a budget that properly funds our national security as well as economic security. Let's make sure that we're able in a constructive way to reform our military spending to make it sustainable over the long term."
Much needed projects have been proposed in the 2016 Fiscal Year Budget, projects ranging from new education programs to making services like making retirement plans more accessible to workers. The budget plans to improve many positive programs in education to help the well-being of many of American students in 2016. The budget will increase funding to special education and will place a higher effort on assisting English language learners. The budget will also improve science, technology, engineering, and math (STEM) education, donating 3 billion dollars to improve current programs and re-design America's high school instruction for these courses. The Budget will also help the American worker. The budget proposes an added tax credit to families were both spouses work. Giving them a 500 dollar credit added to their tax return. A 'paid leave' is proposed so that families can stop choosing between caring for their loved ones and receiving a paycheck they desperately need. The budget plans on making saving for retirement easier and accessible to all workers. One of the most helpful and new areas of funding will go to making a college education more accessible. A tuition-free community college for responsible students, a partnership between community colleges and the federal government will help over 9 million students with starting their journey to a degree. Another improvement is a re-design on student loans. The budget proposes to start a pay as you earn repayment plan, so that repayment does not become unmanageable and debt threating.
View Comments (1)