YA Fiction and Real Life
Hang on for a minute...we're trying to find some more stories you might like.
In recent years, young adult (YA) fiction dealing with social issues has risen to the top of the charts. However, YA fiction is a relative newcomer compared to other genres of literature. It does not have the prestige of other more "adult" genres which ends up allowing for less conventional authors to make themselves a name.

Especially in the United States, YA fiction is popular among teenagers. With increased awareness of the world as they become older, YA fiction becomes more and more relevant. Besides general awareness of the world around them, "YA fiction is indivisible from activism," wrote Keith Stuart in an article for Medium.com. This connection to activism can be seen in Angie Thomas' The Hate U Give as well as picking apart issues that have gone back and forth over the years.

When looking at YA fiction and adult fiction, there are differences. The age of the protagonist is usually in the upper teens in YA fiction, and over 20 in adult fiction. If the protagonist is under 14, it is usually considered to be middle grade fiction. The voice a book is told through is also different based on if it is YA or adult fiction. A teenager has different priorities, worries and thoughts than an adult, and this is shown in YA fiction. It is also why some tropes such as the love triangle, and themes such as self-discovery and friendship are so prevalent in YA fiction. These are all typical young adult experiences, and so become things teenagers tend to focus on.

The birth of the modern YA novel, was in the late 1960s— 1967 to be exact. It was the year the S.E. Hinton published her novel The Outsiders. It had a realism that was lacking in other novels previously written for that age group. Before this, YA fiction typically featured small town teenagers whose biggest problem was finding a date for senior prom. Hinton saw this and in an article in The New York Times Book Review published on August 27, 1967, she wrote:

Teenagers today want to read about teenagers today. The world is changing, yet the authors of books for teen-agers are still 15 years behind the times. In the fiction they write, romance is still the most popular theme with a horse and the girl who loved it coming in a close second. Nowhere is the drive-in social jungle mentioned. In short, where is the reality?

Besides activism and the intricacies of growing up, YA fiction also captures fear, or maybe warning, for the future in its dystopian novels. Dystopian fiction is extremely popular right now, with countless books and movies featuring decadent oligarchs, brutal police states, ecological collapse, and ordinary citizens biting and clawing just to survive. YA fiction has its own dystopian fiction, too. In Delirium by Lauren Oliver, Love is considered a disease. Characters get a vaccine for it. In Marissa Meyer's Renegades, the collapse of society has left only a small group of humans with extraordinary abilities. They work to establish justice and peace in their new world.
This spills over into dystopian fiction, in that more and more are going back to the classics. Dystopian literature has long given writers a means of interrogating the world around them. Orwell conceived of 1984 under the looming threat of the Soviet Union, and Margaret Atwood wrote The Handmaid's Tale after the elections of Ronald Reagan and Margaret Thatcher. "We can work our way through problems by telling stories better, at times, than by writing philosophical treatises," says Chris Robichaud, an ethicist at Harvard who teaches a course on utopia and dystopia in fiction and philosophy. "You look to fiction to see how people are wrestling with serious problems." That's valuable for readers as well, especially in a politically divided climate like today's. "We can't look at dystopias as merely some bad slippery slope argument," says Robichaud. "Rather, they challenge us: What are the values in this dystopia, and what do they say about our values right now?"
However, for bestselling author Naomi Klein, all this gloom is a worrying sign. "This boom in cli-fi (climate fiction) literature is exciting, but I think it can become dangerous if it isn't seen as a warning, but just seen as inevitable. I think Margaret Atwood—not to be too Canadian about it—but I think Margaret Atwood's In the Year of the Flood and that whole trilogy, that whole climate trilogy, is an example of the kind of narrative that really does serve as clarion warning, as opposed to just sort of hopeless 'we're on this road, we can't get off.' And it's hard to define what makes something more of a warning than just affirming that sense of the inevitable."
When it comes to teenagers and their love of dystopia, Jon Ostenson, who studies young adult dystopian literature at Brigham Young University in Utah, says that, "Teenagers see echoes of a world that they know." He also stated that "the hallmark of moving from childhood to adulthood is that you start to recognize that things aren't black and white and there's a whole bunch of ethical grey area out there."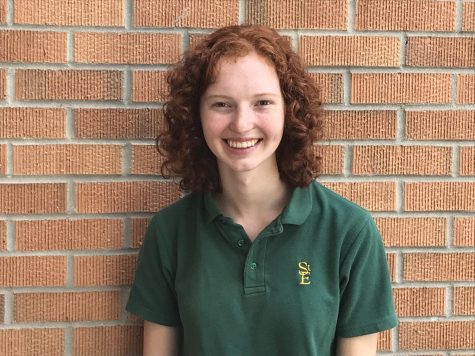 Sarah Pottorff, Reporter
Hi! I'm Sarah and this is my first year with "The Edge". I love reading historical fiction and watching "Zombie House Flippers". I also play golf in the...