Anatomy class takes on the cadaver lab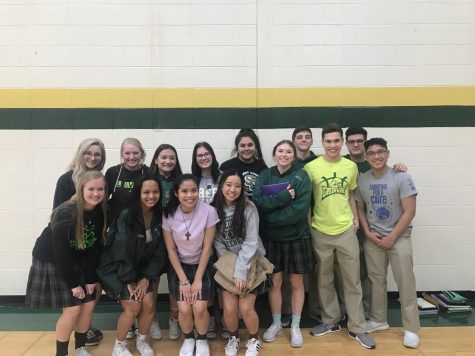 On March 19th, the Anatomy and Physiology class was given the opportunity to go to a cadaver lab. 19 students from this class attended this field trip. This cadaver lab took place at Elgin Community College. This lab is used for many science classes taught there.
Professor Becker, a professor at Elgin Community College, is the person who guided the class through the anatomy of the cadaver. She split the class up into groups and those groups each got hands on experience and were able to see and touch the muscles and parts of the body. Victoria Mindyikowski said, "It was really cool! I thought it was interesting to see the muscles in person and how it's more different from a model/textbook and it was very cool how you could easily see the cadaver had cancer in her liver."
The Anatomy and Physiology class is new to St. Edward this year. This class is taught by Mrs. Brown and is offered every other year to students who wish to take it. It's mainly meant for people who are interested and looking into a career in the medical field. It is an elective and it is very lab based. "I want this class to prepare those students who want to take a college level anatomy class for their given field. I want to give these students as much exposure to the different kinds of careers and their pathways to get their by bringing speakers in. I also want to try to give the students overview of every single system in as much detail so they can be successful at the next level. The class this year has been knowledgeable and enthusiastic and they have definitely exceeded my expectations. I hope future classes can live up to this first year class!" said Mrs. Brown.