Boy's Tennis Looking to Start off Strong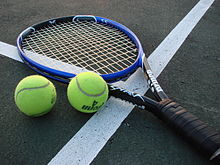 The boys tennis team has been working very hard so far this season in preparation for their first meet. Junior tennis captain, Peter Cholowa and new head coach, Mr. Snow, look to lead the tennis team to a successful season! The team always practices every other day for 2 hours indoors or outdoors depending on the weather. Their first tennis meet is on April 10 at Wing Park. They look to defeat their opponents, Rockford Christian, and hope that their win will lead them off to a strong start!
Captain, Peter Cholewa says that with the tennis team, he wants to carry out an above 500 record, and he wants to ensure that by the end of the season everyone will want to play tennis again. He says that although they haven't played any games yet, Josh Nordan (freshman) is looking like he will be the next star of St Edward's boys tennis.
When asked how far he thought the tennis team this year was going to go, he replied,
"It's hard to tell. However, I do expect the upperclassmen to do well in sectionals if not win, and for the underclassmen to use this season to learn."
He also included,
"I'm proud of the hard work the team has put in so far, but especially our coach Mr. Snow. He doesn't have much tennis experience, but he is one of the hardest working coaches I've ever had.