Federal Bureau of Investigation
The Federal Bureau of Investigation (FBI) is the domestic intelligence and security service of the United States. The FBI is a federally funded intelligence agency and is the main resource for the U.S. Department of Justice. The FBI is responsible for more than 200 federal crime categories. It's motto is "Fidelity, Bravery, Integrity." The bureau began back in 1908 when a force of special agents were created by Attorney General Charles Bonaparte. The FBI was first named the Bureau of Investigation but was later changed in 1935 to The Federal Bureau of Investigation. Originally, the Bureau mostly recruited men who had experience in law enforcement. Through the years, the FBI has been involved with investigation and captures of many dangerous criminals in U.S. history. The FBI is always evolving and has a lot of authority and jurisdiction over all federal law enforcement agency.
The FBI Academy is situated in 547 acres within the Marine Corps Base in Quantico, Virginia. They are dedicated to law enforcement training, research center, and advocate for law. The training academy is a full service facility with dorms, firing ranges, gym, pool, library, a mock town called Hogan's Alley, and even more. The academy offers many different training programs for Firearms, Survival Skills, Law Enforcement Development, Tactical and Emergency Vehicle Operation, and Hogan's Alley. These training programs are for new agents who are going to either be Special Agents, Intelligence Analysts, Professional Staff, Law Enforcement Officers, Foreign Partners, and Private Sectors. Before you can do this though you must apply to become an FBI agent.
FBI special agents are responsible for conducting investigations and for enforcing over 300 federal statutes. FBI agents work on many crimes such as organized crime, matters including terrorism, corruption in public agencies, incidents involving civil-rights violations, bank robberies, kidnapping, and extortion. They also work on cases involving cyber crime, bribery, air policy, white-collar crimes, and foreign counterintelligence. The FBI also takes care of activities in more than one state which includes the following: interstate fugitive, apprehension, drug trafficking, kidnapping, and extortion. "Our obligation is to refuse to let bad win, to refuse to let evil hold the field," said James Comey, seventh director of the FBI. Each day is different. You might spend time in the office researching criminal activities, be gathering evidence, meeting with informants or witnesses, monitoring criminal suspects, or making an arrest.
When becoming interested in the FBI, it's important that you have a four-year college degree to qualify as an FBI agent. The FBI prefers applicants who have degrees in accounting, computer science, law, and foreign languages. For an example, someone with a computer science degree might investigate online crimes.
FBI special agents usually start out very young. The minimum age to apply is 23 and the maximum is 37. The agency needs mature and physically fit people. The average age for a new recruit is 30 years old. More than 2,000 women serve as a special agent. As of 2014, this number is a part of the 13,082 total agents. Agents typically work 40 hours a week, unless they're dealing with special agents of traveling. The agency also offers a part-time program which allows you to work 16 to 32 hours a week. This is designed for working parents who want to spend time with family and balance it between professional responsibilities.
FBI agents spend a lot of time and effort to research, study, and plan their actions for every case they handle. FBI agents have one of the most interesting occupations. Agents investigate whatever matter they are assigned to, regardless of how strange it is. The FBI has their own jargon, this is used between agents, some words such as "UNSUB" meaning unknown subject. Agents also receive training in Hogan's Alley. This is a constructed town is Quantico, Virginia. Agents respond to staged events and receive tactical training in real life scenarios, which also have actors who play terrorists, drug dealers, and mobsters.
Training at the academy is divided into two main segments. The first twelve weeks is academic training where you learn about threat-based, intelligence driven, and operationally-focused approaches that the FBI takes. This will also include developing threat based assessments, collecting intelligence, and conducting investigations. Weeks thirteen to twenty-three are designed to hone tactical skills and precision. This training is physically demanding and intellectually challenging. This also includes firearms, defensive tactics, defensive driving, and a lot more training. With training and lots of practice even you can become a FBI special agent.
Leave a Comment
About the Contributor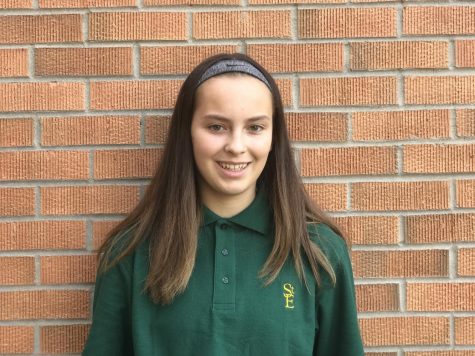 Samantha Ottinger, Reporter
Hello! My name is Sam and yes, I occasionally speak. This is my first year with "The Edge". I enjoy playing basketball, volleyball, reading and nerding...