New Season New Staff for the Chicago Bears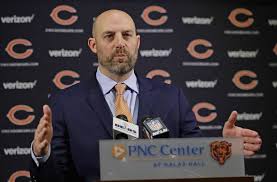 Jake Kaufman, Reporter/Broadcasting Director
February 6, 2018
The football season has just about ended and once again the Bears didn't make the playoffs. Former Bears head coach John Fox was on thin ice and his bosses believed it was time to move on from him. Compiling a 14-34 record over three seasons. The Bears went through many men for the job but found they're guy. The Chicago Bears have hired the Kansas City Chiefs offensive coordinator Matt Nagy.
This will be his first head coaching job after working for years with Chiefs head coach Andy Reid. Coach Reid has said that Nagy is, "his best head coaching candidate he's had." Nagy has been under Reid since he coached the Eagles. He had turned Chiefs QB Alex Smith from an average QB into an MVP caliber QB this past season. One of the reasons he was brought in was to help the Bears develop second year QB Mitchell Trubisky.
The Bears new offensive coordinator Mark Helfrich can help Trubisky's sophomore campaign. He was once the head coach at Oregon University and offensive coordinator as well. During his time being OC his offense lead the nation in yards with 545 yards per game and scoring 45 points per game. He also made a Heisman Trophy winner in Marcus Mariota and was able to convert him into the 2nd overall pick. This free agency could help out the offense by adding some receivers to the offense. To help his offense they hired Charles London for the running backs coach and Mike Furrey to help with the wide receivers.
The only former coach on the staff is defensive coordinator Vic Fangio. He signed a 3 year contract extension. He was brought in with John Fox. Now, he'll be working for Matt Nagy. He created a great defense during his time with the 49ers but hasn't found as much success in Chicago. Reasons to blame are the injuries he's had to deal with his defense. When healthy, he has the men to create a dominate defense the Bears have been known for. He will be looking to add more weapons to the defense with this year's big free agency market.
The future looks bright for the Bears. If they can stay healthy and add some players to, the young team they could get ahead of schedule on the rebuilding process. Bears fans, you should be excited for this coming season. Will they get out of the basement of the NFC North? You'll just have to wait and see in September.