St. Ed's back at state, yet again
Hang on for a minute...we're trying to find some more stories you might like.
The Lady Wave cheer squad started their competition season off by a collection of medals. At Lincoln Way High School competition, they placed third, at Buffalo Grove High School, they also placed third, and at Plainfield South High School, they placed second. By taking sixth place in conference, it helped the team gain confidence as they prepared to compete at sectionals. Ranked 15th out of 25 teams is where the Lady Wave stood as they prepared for their final competition. As their season is winding down, Junior, Elise Hilton, said "We've all grown so much since the season has started. We achieved things that we would've never thought was possible and look how far we've come. These girls are my family and I couldn't be more proud of what they have accomplished."
Competing in the small group division, our very own Lady Wave competition team heads back to state. This state experience isn't a new sight for the Lady Wave as they were down there with the 2015 cheer team. This years state competition will take place at Grossinger Motors Arena in Bloomington, Illinois, beginning with the Prelim Rounds on Friday, February 2. The Prelim Rounds consist of 25 team competing in the small division. In order for the Lady Wave to advance to the Final Round, the following day, they must place top 10.
Unlike most sports, cheer is divided into four groups not based on class. These divisions are: small group, medium group, large group, and coed. Among the divided groups, only sectionals and state competitions occur. Not the traditional, regionals, sectionals, super-sectionals, then state. As the Lady Wave completed their routine at sectionals, Junior captain, Jessica Mote, mentions "Coming off the mat at sectionals we hit zero [which means the team didn't have any deductions or mistakes]. We had a talk before sectionals and said 'no matter what happens, we will be proud of ourselves and not be upset if we didn't make it.'"
It was now time for them to see what their competitions had to offer, most importantly, Sumunak. Sumunak has always been a competitor of them but after watching them perform and having mistakes, the Lady Wave knew that they've got a chance. By the time of the awards the cheer squad huddled up and bowed their heads as they revealed Sumunak being called for fifth place. Nine cheerleaders, some jumping for joy, others hugging one another, and some shedding tears of joy. By 1.73 points, our cheer squad advances to state by achieving the fourth place spot at sectionals.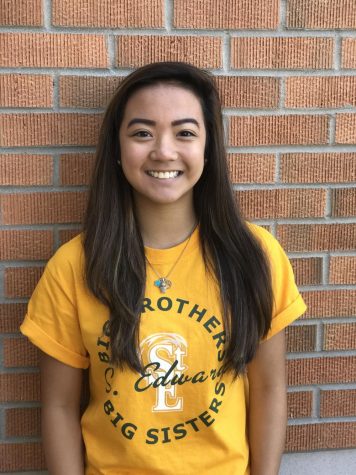 Yssa Sto. Domingo, Reporter
Hey there! (; Yssa here, and I'm your social media specialist on the St. Edward Edge. Follow us on Instagram: @stedhs Twitter: st_edward_edge and Snapchat:...