"Hamilton: An American Musical"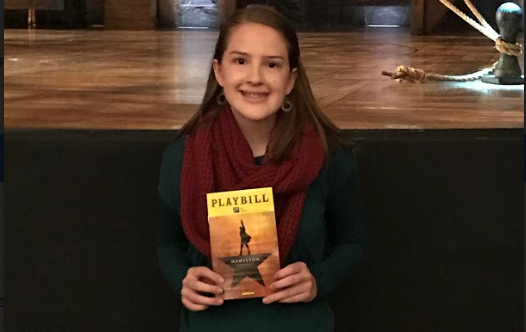 "I am not throwing away my shot!" … to write about this amazing musical!
Corny intro aside, I'm here today to tell you about the musical sensation that, "Hamilton: An American Musical." I had the pleasure to see this life-changing musical at the CIBC Theatre on October 1, and let me just say, it was the best dang production I have ever seen (and I've seen and reviewed my fair share of productions in the past year). From the music, to the cast, to the set design, and more, everything about "Hamilton" was absolutely amazing. In my original plan for this review, I was going to rate the different aspects of the musical out of five stars. However, after seeing it, I can say that there's no sue; it would have received five stars in every category I presented.
Just in case you've been living under a rock for the past two years or so and somehow haven't heard of the world-renowned production that is "Hamilton", here's a bit of background info for you. "Hamilton: An American Musical" is a singing/rapping musical about the life of American Founding Father, Alexander Hamilton (you know, "the ten-dollar Founding Father without a father"), created by Lin-Manuel Miranda, who was inspired by the 2004 biography Alexander Hamilton written by Ron Chernow. If you haven't heard of Lin-Manuel Miranda either, he is an American composer, lyricist, playwright, and actor who is also best known for creating and starring in In the Heights and for co-writing the soundtrack for Disney's Moana. Miranda has won many awards in the past decade along, including a Pulitzer Prize, two Grammy Awards, an Emmy Award, a MacArthur Fellowship, and three Tony Awards.
Since its debut, "Hamilton" has been acclaimed for its incorporation of various genres of music (pop, traditional-style show tunes, rhythm and blues, and hip-hop) and for its purposeful casting of actors of color to play the different historical figures. For these reasons and many more, "Hamilton" has achieved critical acclaim and huge box office success, with tickets constantly being sold out in major theaters across the country.
In 2016, "Hamilton" received a record-setting 16 Tony nominations and won 11 of them, including one for Best Musical. "Hamilton" was also the recipient of the 2016 Grammy Award for Best Musical Theater Album and the 2016 Pulitzer Prize for Drama.
Due to its immense popularity, tickets for this musical are either extremely hard to get or extremely expensive. If you have been dying to see it and haven't been able to afford tickets, don't lose hope: on Feb. 14, 2017, Miranda himself confirmed that a film adaptation based on the musical is in the works.
I myself became obsessed with this musical a little over a year ago. I was curious to see what all the Hamilton hype was about; I thought, 'How interesting could a musical about a Founding Father really be?' After listening to the whole soundtrack several times on repeat, I finally understood: Miranda was able to take something that would normally be a boring history lesson and turn it into something completely different and new, something I don't even have the words to describe.
I've been obsessed with the official soundtrack for "Hamilton" for a little over a year now. Whenever I was up late working on countless essays and homework, or studying for finals, "Hamilton" was what got me through. It was something that brought my mom and I even closer together. So, when I finally got the chance to see the musical in person, I began to cry once the lights dimmed and the song 'Alexander Hamilton' began. My mom even remarked after the musical ended that, every time she looked over at me, I always had a smile on my face.
People wonder if "Hamilton" actually lives up to the hype it's been given since it became extremely popular. The answer to this is yes; it absolutely lives up to the hype. In fact, it exceeds it. Listening to the soundtrack is one thing, but experiencing it live and in person is another.
The cast at the CIBC Theatre were incredibly talented. Through their performances, I could see how hard they were working and how passionate they were about what they were doing. Although this is something that a lot of them do repeatedly almost every single day, they still looked like they were having fun and enjoying themselves. From where I was sitting in the audiences, I could see spit flying from their mouths as the rapped and sang. I know this is kinda gross, but hear me out; you wouldn't see that from an actor who wasn't working hard and who wasn't passionate about what they were doing. Another thing to note is that the theatre did a fantastic job at casting the beloved characters. With the popularity of the original Broadway cast (which included Miranda himself), I can barely imagine how tough it is to cast actors who can live up to the audience's expectations. However, the actors in this particular show were phenomenal and played their characters amazingly.
"
"I am not throwing away my shot!" … to write about this amazing musical!
I probably listened to the soundtrack for this musical a thousand times. It was the only CD I listened to in the car for months straight on my way to work and school. Although I love the soundtrack so much, listening to the music in person was a completely different experience. In person, you can hear the passion in the character's voices, as well as see it in their faces and through their actions. The words have a much stronger effect than they do in the soundtrack. Also, on the soundtrack, there are very obvious breaks between songs and very few transitions between songs. This is not the case for the actual musical. The transitions between the different genres were cleverly done with the use of instrumentals from the pit, making each song flow seamlessly into the next, which I found very impressive.
Costumes and set design were also fantastic for this show. The costumes were beautiful and oddly shiny; they were classic and revolutionary, and a little modern at the same time. The set was beautiful, and although the background was essentially the same throughout the whole musical, thanks to the use of moving pieces and a rotating stage, it appeared different in every scene. The rotating stage made for more dynamic scenes and more interesting interactions between characters. The choreography was very beautiful as well, mixing different styles of dance (ballet, break dancing, et cetera) and making it look phenomenal. It wasn't just random dancing either; it served a purpose. It was a creative way for the ensemble to change how the stage was set up, and allowed them to move props that were no longer needed in a fabulous and different way.
There are a thousand more things I could talk about in regards to "Hamilton", but I've already failed in my efforts to make this article a short and sweet musical review. Before I go, however, I want to leave you with an inspirational lyric from "Hamilton", one which has been my motto for awhile now: "I'm past patiently waiting. I'm passionately smashing every expectation, every action's an act of creation! I'm laughing in the face of casualties and sorrow, for the first time, I'm thinking past tomorrow!"