FBI College Basketball Investigation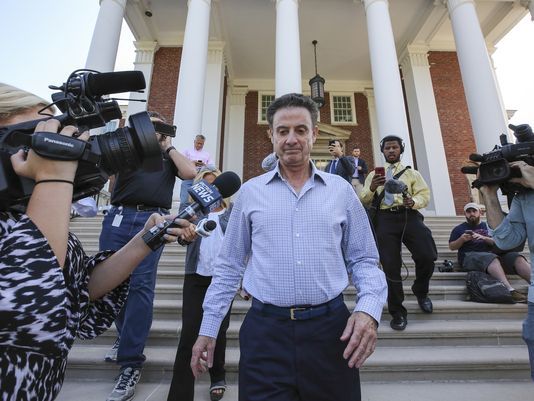 Jake Kaufman, Reporter/Broadcasting Director
October 23, 2017
An ongoing FBI Investigation is crashing the boards of the college basketball world. Allegations are being waged against elite basketball programs nationwide, including 2013 national champion University of Louisville, for offering top college recruits money under the table for a signed commitment to play for their program.
Adidas is named in the investigation as influencing prospects to sign with these elite programs. They made deals with recruits to represent their brand when they turned pro. Unlike other smaller college basketball scandals of the past few this one could have long reaching effects on the game for years to come.
According to FBI findings, coaches at many power five schools lured NBA prospects towards different agents, financial advisers and apparel brands. Assistant coaches that were coaching this past season at Auburn, Arizona, Oklahoma State and USC were all identified in the undercover sting operation. They all face up to 80 years in prison on many different counts of fraud and conspiracy charges.
Identified as University 6, which is the hardest hit by this scandal, was the University of Louisville. The program had already been rocked by a scandal by a former assistant. It cost them their trip to the NCAA Tournament in 2015 and could eventually cost them their 2013 National Championship banner. According to the FBI's findings, a top recruit was given $100,000 to sign with Adidas and commit to the University of Louisville.
Rick Pitino,  Louisville Cardinals head coach since 2001, was placed on administrative leave but was eventually fired by the university. He had a record of 770-269 and has two national championships under his belt (one from his coaching reign at the University of Kentucky). Louisville's Athletic Director, Tom Jurich, was also put on administrative leave and awaits his fate.
Incoming freshman Brian Bowen, a 5-star recruit who committed to Louisville back in June, was identified as the top recruit being paid $100,000 to commit to Louisville and sign with Adidas when he turned pro. Louisville has suspended Bowen indefinitely as they continue to get more information. Bowen's response to these allegations was to hire a lawyer to take on the NCAA and maintain his eligibility for this coming season.
As the investigation has gone on we have gotten more information about Arizona Wildcats involvement. One of the programs assistants, who was arrested as part of the investigation, said that a recruit took $15,000 from a sports agent and committed to the program back in August. Jahvon Quinerly is the alleged recruit who took the bribe. Quinerly and his father have denied accepting any money. He has hired a lawyer to defend him against the investigation. He has since decommitted from Arizona and has reopened his recruiting once again.