One Year in Sideline Sports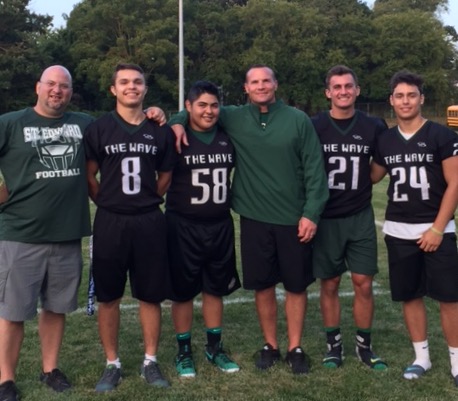 Jake Kaufman, Reporter/Broadcasting Director
September 11, 2017
I can't believe it's been a year since Sideline Sports was launched. What started off as 2 – 5 minute weekly podcast for the Green Wave faithful football fans has evolved into more than I could have imagined. With the help of St. Ed's coaches, players and teachers we've been able to report on football, boys and girls basketball and girls softball. Yep, Toto. We're not in Kansas anymore!
Now, you can follow Sideline Sports on Facebook live during the boys Varsity basketball season. With Coach Mike Aydt by my side showcasing his hidden broadcast talent as the color analyst, I'll continue to do play-by-play calling of all regular and post-season games including their run to the IHSA state tournament.
I had the opportunity to call play-by-play for the girls Varsity softball team outside in the elements during their regular season last spring. It was an interesting and welcomed challenge. However, following the girls varsity basketball team on their 3rd place run for state was the definite highlight of my year. From Sectionals to the big win in Super Sectionals and then the road trip to Red Bird Arena in Bloomington, it was an amazing time for coaches, players, parents and fans streamed live for those who couldn't be there in person. That's the true beauty of this newer media!
Many people have asked me what is the future for Sideline Sports. I'd like to do more one-on-one interviews with St. Ed's coaches so we can learn more about their leadership qualities. I'd also like to interview more players so we can all get to know more about what personally motivates them. So, stay tuned for more revealing interviews, game day coverage and other special projects with Sideline Sports here at The Edge and Facebook Page Sideline Sports STE.