Grading the Bears Early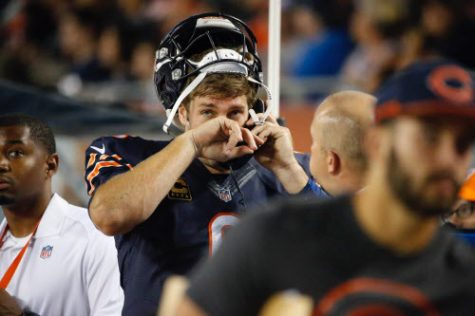 As the Chicago Bears prepare for their upcoming season, expectations should be on a rise, but the team only welcomed mediocre free agents Mike Glennon (QB), Markus Wheaton (WR), Dion Sims (TE) to the Windy City. Former back up quarterback for Tampa Bay, Glennon had a grand total of 11 passes in his last 3 seasons with the Buccaneers. He'll continue his NFL career as the projected starting QB for the Chicago Bears. Fans and analysts are skeptical of Glennon's abilities but they welcome the possibility of a solid option at quarterback. The Bears signed Markus Wheaton as a replacement for Alshon Jeffery (who signed with the Eagles). He has a chance to be a breakout player and may be the piece that the Bears have been missing.
Dion Sims is a former tight end for Miami. Known for being a playmaker in the end zone, Sims gives the offense a more flexible feel and will help with the run game headed by second year player Jordan Howard. After a tumultuous season, the Bears have resigned kicker Connor Barth to a one-year deal. He appeared in all 16 games for the Bears and converted 18 of his 23 field goal attempts.
Jay Cutler's eight-year run with the Chicago Bears has come to an end. The team came to this decision about an hour and half after beginning the 2017 season. As Cutler leaves Chicago, he remains the team's all time passing leader.