Windy City leaders don't blow deadline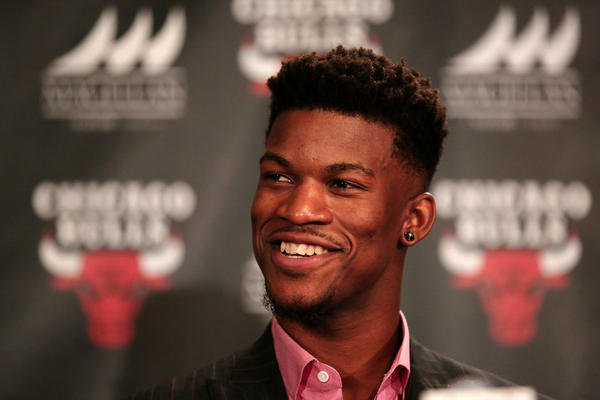 BREAKING: The Chicago Bulls did not panic and make a mind-numbingly dumb trade!!
That alone is an accomplishment. The Bulls did send off Doug McDermott, Taj Gibson, and a 2018 second round pick to the Oklahoma City Thunder for Cameron Payne, Joffrey Lauvergne, and Anthony Morrow. The Bulls, however, did not trade Jimmy Butler for pennies on the dollar, like myself and many others expected they might.
First off, my feelings have fluctuated during the past few days but for the most part I was in the Trade Jimmy Camp. He's 27 and signed to a reasonable contract. A star player in his prime on a good contract is the easiest asset to trade in the NBA. The fact that Butler is a two-way wing only makes him more valuable. The league has a surplus of big men in a time when big men are becoming nearly obsolete, but swingmen have never been more valuable and Jimmy Butler is just about the best swingman not named LeBron James or Kevin Durant.
So Jimmy Butler sounds great right? Well he is. But he's not what the Bulls need at the moment. As of Feb. 23, the Bulls sit a game below .500 and in the 7th seed in the East. Chicago probably won't make it out of the first round, and have virtually no chance of making the Finals, let alone beating the presumable Western representative Golden State. So if simply making the playoffs is still very much up in the air, why would keep one of the hottest commodities in the league?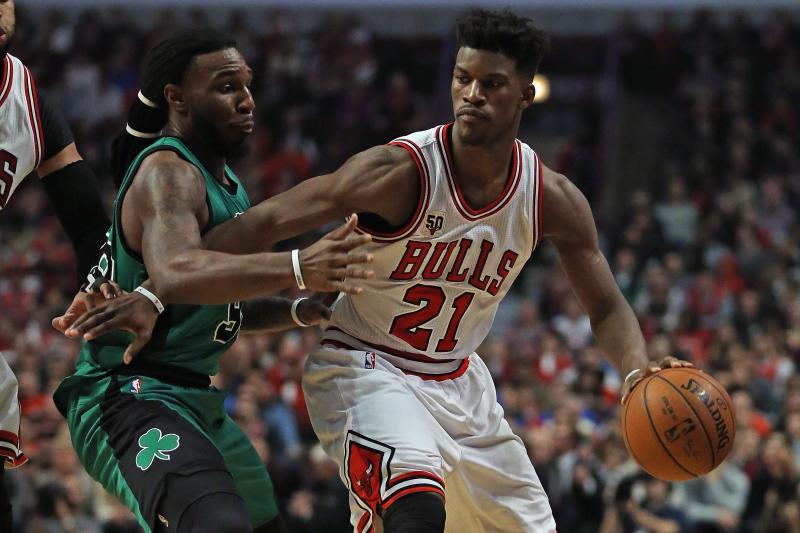 The Celtics have the best collection of future assets in the NBA, and it was widely projected that the Bulls could've gotten a package from the Celtics built around the Brooklyn Nets 2017 first round pick and Jae Crowder. The Nets are projected to finish worst in the NBA by several games, meaning that their pick is guaranteed to be at least top four with a 25% chance of it being the top overall pick. This year's draft is projected to be possibly the best since the 2003 draft that featured LeBron, Wade, and Melo among others. Also Crowder is a good, not great, wing. He wouldn't completely replace Butler, but he would fill the gapping hole at small forward that trading Butler brings.
The Bulls are not going to win a title in the next three or four years with Jimmy Butler as their top option. Honestly I'm very skeptical that you can win anything with Butler as your best player. He would be a great second option, but unless his supporting cast is top notch he just isn't quite good enough to lead a team to a championship. And it's safe to say the Bulls are far, far from top notch.
Everything is pointing to trading Butler. So why did the front office not pull the trigger? Maybe it was the Celtics who backed out at the last minute. Maybe the Bulls wanted even more of a king's ransom. Whatever the reason, the Bulls failed to hit the home run that they desperately needed. At least they didn't strike out like the Kings did with DeMarcus Cousins, but you don't wins titles by playing it safe. Trading low level assets for more low level assets is playing it about as safe as possible while still trying to make it look like you're trying to improve.
Ever since Rose went down with his 217th knee injury the Bulls have been looking for their franchise floor general. Gar Forman and John Paxson, the GM and VP of Basketball Operations respectively, were delusional and thought that Rajon Rondo fit the bill when they signed him in the offseason. Who could've guessed that a belligerent point guard without a jump shot wouldn't work? Shocking. So now the Bulls were forced to trade assets in hopes of finding a half decent point man.
Except Cameron Payne isn't exactly a star in the making. He might be good, but he's doesn't lack red flags. First off, he went to Murray State so he didn't exactly face elite talent while being in the center of the public's eye. Just like drafting international players comes with extra risk, drafting small school players is less of a sure thing. For every Damian Lillard there's an Antonio Daniels. (Don't know who Antonio Daniels is? Exactly.)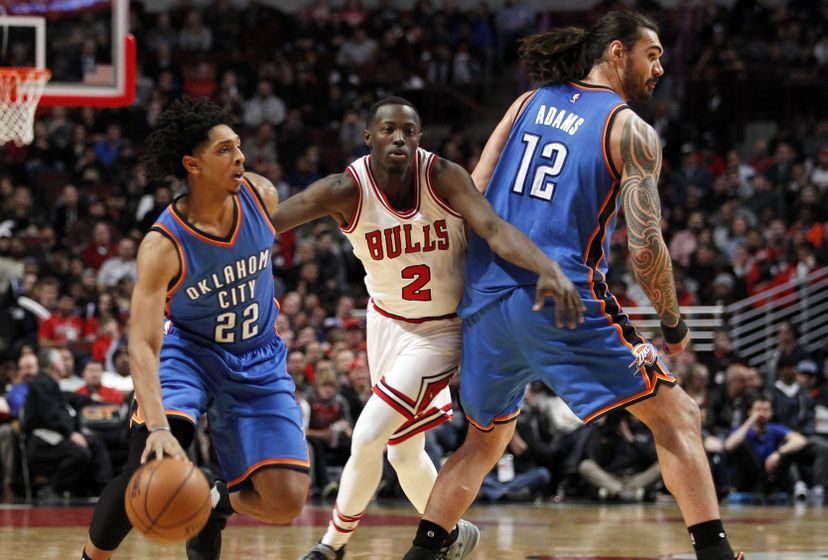 Also, Payne had foot surgery over the summer. Then during practice he fractured the same bone he got surgery on. Nothing derails NBA careers quite like foot problems. Just ask Yao Ming, Grant Hill, Bill Walton, and potentially in a few years Joel Embiid. Payne could definitely overcome the injuries and playing at Murray State is far from a deal breaker. However, I am skeptical that he is somebody I can put my faith in as a Bulls fan.
As for the other players Chicago received, Lauvergne has now been traded twice in the past six months. Most good players don't get traded twice in six months. As for Morrow, he has a job in the NBA because he used to be a lethal shooter. This year he is shooting 29% (a shooting specialist should shoot 40% or higher from deep) from three, has a 9 PER (league average is 15), and has a net rating of -5 (a negative net rating means he hurts his team more than he helps). To put that in perspective, Doug McDermott is shooting 38% from downtown, has a PER of 11.5, and a net rating of -1. McDermott isn't exactly setting the NBA on fire, but if you weren't a Dougie McBuckets fan, prepare to hate Anthony Morrow.
Also losing Taj Gibson is disappointing. Outside of Jimmy Butler, Gibson was all that was left of the scrappy Bulls that were a legitimate threat to LeBron's control of the East. Also, Gibson had started every game this season. For three or four years it looked like he was going to be the starter in the offseason only to be relegated to the bench once the season started. Now Gibson has firmly cemented himself as the starter and he gets traded. With that said, Gibson's contract expires after this season so it was the smart basketball move to get something for him before we would've potentially lost him for nothing in the offseason.

Loading ...
I may be dissecting this trade and making it seem like a poor deal, but that's just my natural skepticism as a Bull's fan. Forman and Paxson have made some horrible decisions recently so naturally I am inclined to believe that this is another one of them. But Payne is actually a pretty good pickup without giving away anything of immense value. Honestly, just the fact that we didn't give away Jimmy Butler for peanuts is a win in its own right. Throw in the fact that the Bulls didn't trade for Jahlil Okafor and now Chicago's trade deadline looks like quite an impressive victory.