Marimba through the generations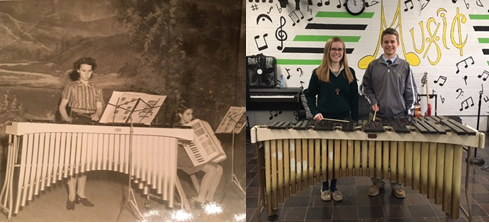 St. Edward recently received a generous gift from the family of Marge Masters, who was an involved member of St. Peter Parish in Geneva and grandmother of Anna ('17) and Bill Skog ('19), who are students at St. Edward. When Masters passed away in October, her family decided that the antique marimba would be right at home in St. Edward's music department. "She always thought music was an important part of learning and life, and would have absolutely loved to see her instrument passed on to St. Edward," said the Skog family.
Masters owned the instrument for around 75 years and played it during her middle school and early high school years. She had fond memories of the marimba and used to reminisce about playing it in the band at St. Christopher Catholic school in Harvey, Illinois during the 1930s.
The marimba is a unique percussion instrument and will provide St. Edward students with the opportunity to try something new. Choir and band students, Mark Chammany and Alec Uscila, tried to play the marimba and said "It seems hard to play but was easier than it looks and has a dreary feeling to it but sounds really awesome."