New Addition to the Uniform!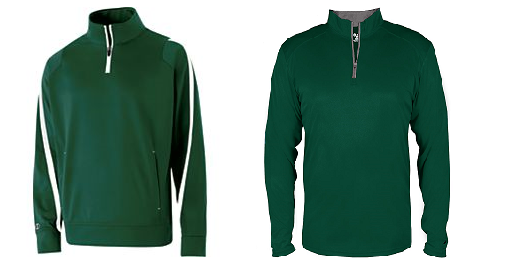 Ever wish your uniform was just a little bit comfier? Do you wish you could wear your sweatshirt to school every day? Well, The Edge is excited to announce that there will be an addition to the school uniform this year! Starting soon, St. Edward students will be able to wear green and or gray half-zip sweatshirts as a uniform choice.
Some of the faculty had suggested and agreed that the St. Edward uniform needed an update, so they contacted the uniform company who searched to find something that's not spirit wear, but could be worn with the uniforms.
The sweatshirts will come in different sizes and will feature a St Edward logo on the top left corner. Students will have a choice of two different styles, either gray or green, and either lightweight or heavier fabric. The half-zips will be sold for $30. You can get yours at the main office as soon as they arrive!
So far, the half-zips have gained a positive response from students. They will not be a required part of the uniform, but are an option. Students will, however, still be required to wear oxfords under the half-zip. St. Edward students and faculty are looking forward to this new addition!