NFL Draft Preview
Time is counting down until the newly relocated Los Angeles Rams are on the clock. L.A. owns the first overall pick after making a blockbuster trade with the Tennessee Titans in which they sent two first-round, two second-round, and two third-round selections. They'll be on the clock starting at 7 p.m. on Thursday, April 28 when the opening round kicks off. On Friday, the second and third rounds take place with a start time of 6 p.m. Rounds four through seven start at 11 a.m. on Saturday to conclude the second consecutive NFL Draft hosted in Chicago.
The Rams moving up to 1 wasn't the only major trade made so far. The Philadelphia Eagles swapped picks with Cleveland Browns, also giving up a future first and second-rounder, and this year's third and fourth-round picks. Both the Rams and the Eagles paid hefty prices to move up just 15 and 6 spots respectively. Also, both teams are expected to select a quarterback.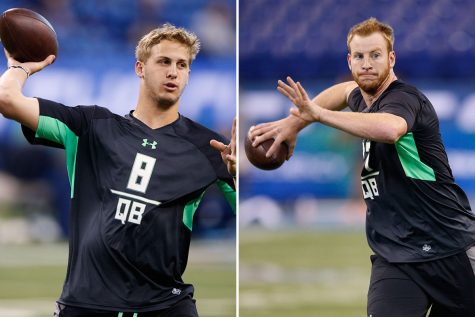 The choice is most likely between North Dakota State's Carson Wentz and California's Jared Goff. The Rams have the obvious advantage, being able to select whichever quarterback they prefer. The Eagles are in a less enviable position, "forced" to take the quarterback that the Rams don't. All signs are pointing towards Los Angeles taking fellow Californian Goff, which would leave the Eagles  most likely selecting Wentz if they select a quarterback as expected.
As for the hometown favorite Chicago Bears, they are selecting at 11 after another disappointing season. Potential players available at that spot are linebacker Myles Jack out of UCLA, wide receiver Laquon Treadwell from Ole Miss, and Ohio State's star running back Ezekiel Elliot.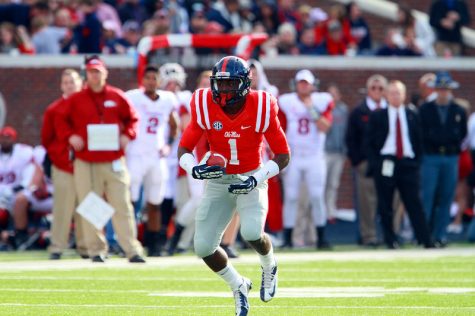 Jack is a top-5 caliber talent but has a potential serious injury in his surgically repaired right knee, which could cause him to slip. Treadwell is a hometown favorite, attending Crete-Monee High School just south of Chicago. He is considered to be the best receiver in a weak receiver class, so he could go higher than expected based purely on teams needing pass catchers and not have much selection to choose from. Elliot has continued to rise up draft boards based on his combination of size and speed, but he wouldn't fill a position of need for Chicago. The Bears chose not to resign Matt Forte, instead putting the future in the hands of second year back Jeremy Langford. Drafting another running back this early in the draft would seem counter productive towards building a balanced team.
The draft is an exciting time. It's a time when teams can either secure their spot in the playoffs for years to come or make their future much less appealing all based on a few picks. There's no way of knowing whether players will turn out to be franchise cornerstones or complete busts. However, hindsight is always 20/20. So in 10 years we'll know whether Jack's knee is a serious issue, if Treadwell is overvalued or really that talented, if the Bears would make a huge mistake passing on Elliot if he's available at 11, and definitely who should go first, Goff or Wentz.