Nine-Year-Old Reporter Covers Homicide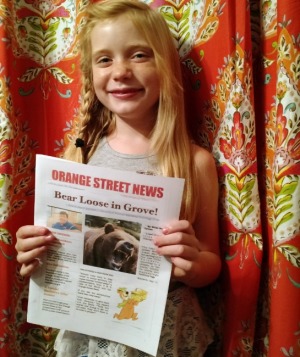 Hilde Kate Lysiak is a nine-year-old who inhabits the small town of Selinsgrove, Pennsylvania. Instead of doing typical nine-year-old things such as biking or drawing, Lysiak is a journalist.
You heard right, Lysiak is a proper journalist, with her own newspaper called the Orange Street News, headquartered in her home town. She writes, edits, and publishes her monthly paper along with posting web updates. The only help she gets is from her parents when it's time to print. When asked about her love of reporting, Lysiak commented, "I like getting people the information." She also commented on her smart way of finding tips and news stories early. "I usually put in my paper that I'm looking for tips and stuff. And people e-mail me tips."
But along with all the love and support, criticism always ensues. Recently Lysiak covered a murder that happened in her town; getting a tip from one of her readers. She immediately began her research. "I went straight to the scene, and I knocked on the neighbors' doors," she said. When she published her paper, online comments said how she should be playing with dolls, not playing reporter. When asked on CNN's "Reliable Sources' why the critics were wrong, she said, "Just because I'm nine doesn't mean I can't do great things." Not deterred by critics, Lysiak will still continue to publish the Orange Street News.
Some critics also commented on Lysiak's mother, Bridget Reddan's, parenting skills. "I think it's a testament to good parenting that we let Hilde pursue her passion," she said. She also included that Lysiak's work is supervised, and Reddan has refused to let her report on stories before. "You know, some people just don't realize she's nine, either, when they e-mail," Reddan added.