Feelin' the Love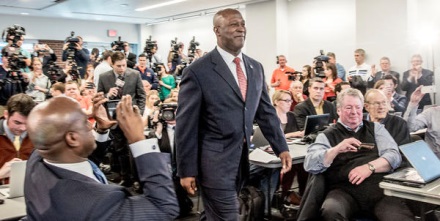 "It comes down to playing winning football. And we're going to do it." That might be the most important topic that Lovie Smith, the newest and 27th head coach of the Illinois football team, covered in his introductory press conference. The former NFL Coach of the Year will look to use the knowledge and tactics gained from 18 years in the NFL to lead Illinois to their first winning season since 2011.
The move to hire Lovie came as a surprise. Bill Cubit had recently signed a two year deal to become Illinois' permanent head coach after his 5-7 interim season. Even though that move was highly criticized due to the lack of stability a two year deal offers and the implications it would have on recruiting, a coaching change wasn't expected.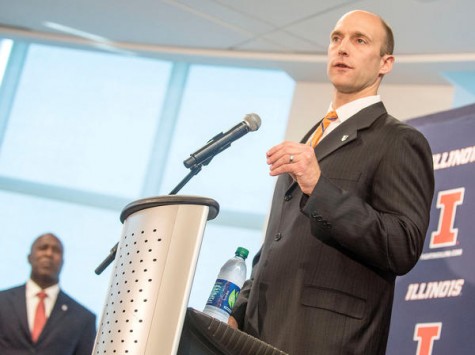 Josh Whitman was hired as the new athletic director at Illinois. The 37 year old is familiar with the Illini, playing tight end for the football program from 1997 to 2000 and was an assistant to former athletic director Ron Guenther from 2005 to 2008. He also has experience as an AD, serving four years at Wisconsin-La Crosse and then moving to Washington University in St. Louis, where he worked since 2014. While at Wisconsin-La Crosse Whitman led their sports programs to a combined 4 national Division III titles and 21 conference titles, proving he knows how to be successful.
"We will hire the best. We will position our coaches and student-athletes to be successful in every facet at this University." Whitman talked about how he wanted a coach who would not only turn the program around but also guide the young men during one of the most pivotal times of their lives. Whitman knew that finding a coach capable of fulfilling both of those tasks is very difficult. However, he feels as if he has found the right guy in Lovie Smith saying, "He is a man of highest integrity. He is a leader of men."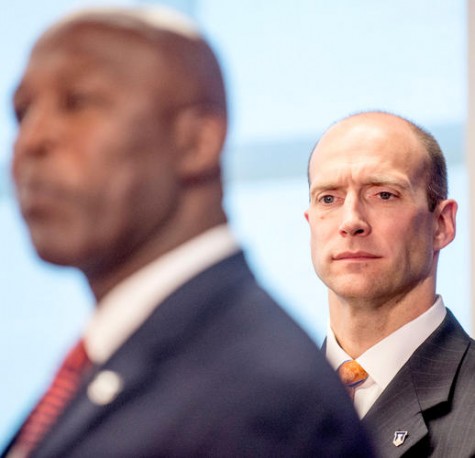 As for Lovie, he has high expectations for the football program saying, "We want to get to a place where we are competing for Big Ten championships yearly." The last time Illinois won the Big Ten championship? 2001. Since then the Illini have been in only four bowl games, most notably the 2008 Rose Bowl when they were blown out by USC 49-17.
Lovie also added, "There is no rebuilding as far as I'm concerned. We are going to put the best possible football team on the field as quickly as possible." While the idea of immediate success is extremely exciting, it's unrealistic to expect a sudden turnaround after four straight years of sub-.500 seasons and only four seasons with a winning record since the turn of the century. However, Lovie managed to take a Rex Grossman-led Bears team to a Super Bowl so I wouldn't doubt him.
With that said, Illinois is in a definite slump. Much of the recent troubles can be credited to poor recruiting. Simply put, there isn't enough talent to regularly win games. The last time the Illinois posted a Top-20 recruiting class was back in 2008. Lovie addressed this by saying, "There are great high school football players in the state of Illinois. We need to keep those players in state. They will help us rise to the top." Fending off recruiting powerhouses like Jim Harbaugh at Michigan and Urban Meyer at Ohio State will be key to turning around the program.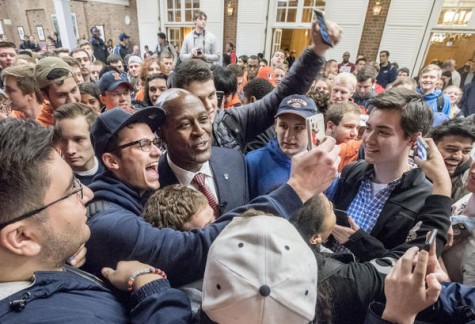 Whether or not Lovie Smith can actually turn the program around within the next year or two is not extremely important. He signed a six year, $21 million contract, giving him plenty of time to right the ship. Recruiting and acquiring more talent is a long, multi-year process which is why Lovie's six year deal makes more sense than Cubit's two year deal.
Winning is obviously the goal, but what is equally important right now is getting Illinois' name back out there. A big name signing like Lovie gained Illinois plenty of publicity. Now the key for Illinois is to avoid returning to the forgotten cellar of college football, but instead channel this into recruiting. Lovie will have his plate full considering Illinois' recent history, but Lovie's enthusiasm seems to show that he is up for the challenge.
As for Whitman, he has a hard task as well. The job of returning Illinois' two biggest sports, football and men's basketball, to their former glory is difficult enough as it, but now he has to be conscious of the integrity of those programs. Less than a day after a tough loss to Purdue, junior point guard Jaylon Tate was arrested for allegedly striking his girlfriend in the head.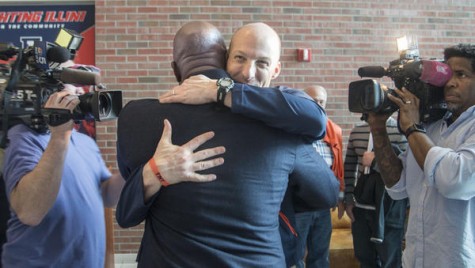 Tate became the third Illini basketball player to be arrested this season. Sophomore forward Leron Black was arrested for allegedly pulling a knife on a bouncer at a bar and Darius Paul, brother of former Illini great Brandon Paul, was kicked off the team after being arrested in France on the team's preseason European tour. John Groce, along with Whitman and Lovie, will have to replenish the talent while not sacrificing the integrity.
It's a tall task, but Lovie seems to be up to it. It all comes down to winning, and Lovie assures us that they're going to do just that.