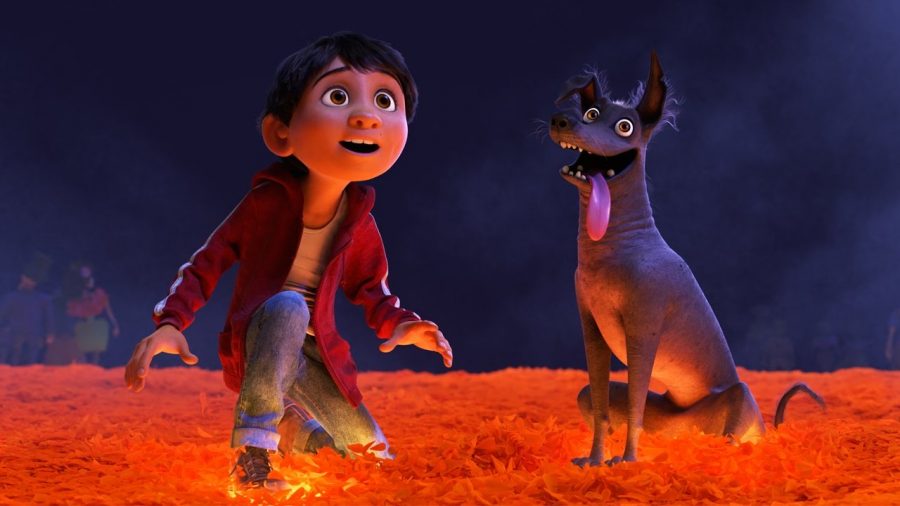 Coco Review
Rating of this movie: 10/10. A+
Coco is the most recent movie from Pixar. It is about a young boy named Miguel as he travels to the Land of the Dead and meets his ancestors. Miguel's family has had a generations-old ban on music after Miguel's great-great-grandfather walked out on his great-great-grandmother and daughter to peruse a life of music, but Miguel wants to be a musician like his idol, Ernesto de la Cruz. Along the way, he meets Héctor, a friendly guide to the Land of the Dead, and they try to find a way back to the Land of the Living.
Non-Spoiler Review
First, I'll talk about the Pixar short. Wait, it wasn't a Pixar short? It was a Disney short? A little background to begin. Pixar movies are known for their Pixar shorts playing before each film. The shorts are funny, heart-warming, and surprisingly tear jerkers. They show off Pixar's amazing animation and show an audience exactly what the studio is capable of. But this time around, there was no Pixar short. Instead, we had a little short from Walt Disney Animation Studios called: Olaf's Frozen Adventure. By a "little short" I mean, a "literally-20-minute-long-special". That's right. A 20 minute long "short". People on the internet were quick to trash the "short" calling it "garbage" and "a waste of money". Most people were actually confused when the "short" went on for too long and thought the theater was showing the wrong movie. With all the hate the "short" was receiving, the feature really had a hate hype to live up to. When I saw the short, I was prepared for it. When a theater representative went around the theater during the trailers to warn everyone about the 20 minute "short", I just said: "Yeah, I know." So, I settled into my seat waiting for the "short" to start. My first impression after it was over: It actually wasn't that bad. I think if I had gone in expecting a Pixar short and not a Disney "short", I would have been disappointed or angry. But, since I knew about it beforehand, the "short" just didn't live up to the hate hype for me. It was nice, a little funny, and a better "short" than I thought it was going to be.
Now to the actual movie. This movie was amazing. I cannot start to describe how good this movie was. The story was phenomenal, the voice acting was great, and the animation was beautiful. Pixar really hit a home run on this one.
The story of the movie sounds simple, but the path the movie takes is an unexpected one. The story is not simply black and white, but a great mix of colors. There was many moments when I was on the edge of my seat or waiting to see what was going to happen next.
The characters really shone in this movie. Miguel is the kind of character where the audience immediately starts to root for him. Anthony Gonzalez gives a spectacular performance as the main character. Another noteworthy performance would be that of Héctor. Gael García Bernal was great as the funny, mysterious friend Miguel makes in the Land of the Dead. Héctor's scenes made me laugh a lot. He quickly became an audience favorite since the first moment he appears (a moment where he is disguised as artist Frida Kahlo). Alanna Ubach gave a very touching performance as Imelda Rivera, the great-great-grandmother who banned music in Miguel's family. Her backstory and emotions really fit the character, and it really was touching.
The animation in this movie was amazing and some of Pixar's best. Before the movie even started, there was a small clip of the animator's showing the audience how they animated one shot from the movie. This movie was the first to fully animate their guitar playing. All of the scenes where someone played a guitar had realistic and accurate animation to the notes. This is a first for animated movies and it really shows the level of dedication in a Pixar artist. The colors in the movie also stood out. The uses of pink, purple, and orange really worked. The skeletons moved very electrically in this movie. They were always bouncing around with their bones rattling about. Dante, the Xoloitzcuintli dog, was another impressive feat for Pixar. They are used to their animals having fur to cover up parts of their bodies. But, with Dante the hairless and skinny dog, they had to realistically animate the stretching of skin over bones and make it all move the way it should. They successfully made every single one of their challenges work.
In conclusion, Coco was amazing. I cannot point out a single problem with the movie. I enjoyed every part of it, and certain parts almost made me cry (I almost broke my record of never crying during a movie!). Overall, this movie was one of the best this fall. If you missed your chance to see it, I would highly recommend buying it when it comes out on DVD.
Spoiler Review
This movie had something I was not prepared for. It had two big plot twists. I thought this movie was going to be a typical kid movie (I knew it would be good, but not this good.) I was very surprised at the two huge plot twists the movie had. The first was that Ernesto de la Cruz, Miguel's hero, turned out to be a fraud. He had stolen his music from Héctor and then killed the latter after he wanted to return to his family. This alone was a huge plot twist, but it gets bigger when it is later revealed that Héctor is Miguel's great-great-grandfather. He had tried to get back to his family, but was killed, making Imelda believe he had abandoned his family. This was a giant twist and I did not see it coming. The movie had set it up, and it worked perfectly with the rest of the movie.
Another great scene was Miguel singing "Remember Me" to Mamá Coco. This scene almost made me cry and when Coco started singing back to Miguel, it became one of the most beautiful scenes in the movie.