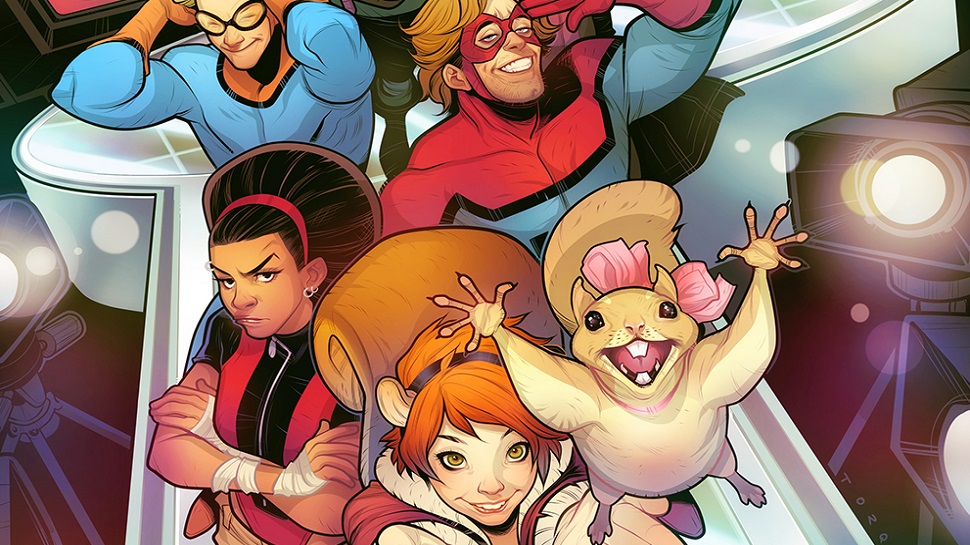 Marvel's "New Warriors" Coming to TV in 2018
Everything that we know (so far) about Marvel's upcoming comedy
On Wednesday April 5, Marvel announced that a live-action half-hour comedy series based on Marvel's New Warriors is in development by Marvel Television and ABC Studios. This new series has received a direct-to-series order with ten episodes, and will debut on Freeform, previously ABC Family, sometime in late 2018. This new series, titled Marvel's New Warriors, is co-produced by Marvel Television and ABC Signature Studios. Jeph Loeb, Marvel's Head of Television, will be executive producer of the series, along with Jim Chory, who is an executive producer on many of Marvel's TV shows. Kevin Biegel, a writer and producer best known for his work on Scrubs and Cougar Town, serves as showrunner and executive producer.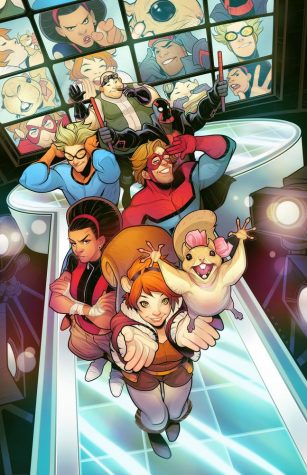 Marvel's New Warriors is about six young people with powers living and working together. "With powers and abilities on the opposite end of the spectrum of the Avengers, the New Warriors want to make a difference in the world… even if the world isn't ready," a statement from Marvel Comics reads. "Not quite super, not quite heroes, Marvel's New Warriors is about that time in your life when you first enter adulthood and feel like you can do everything and nothing at once – except in this world, bad guys can be just as terrifying as bad dates."
Marvel's New Warriors will be Marvel's first thirty minute comedic superhero TV series. After seeing the success of popular DC Comics "dramedies" such as The Flash and Supergirl, it makes sense that Marvel would start to go down that same road. From the looks of it, the New Warriors are basically the Avengers-brand of the popular DC Comics team, the Teen Titans; they are a group of quirky and relatable teenage and young adult heroes who want to make a difference in the world (even if their power's aren't as developed nor as impressive as those of the Avengers). The New Warriors have to learn how to use their abilities to help people, while also struggling to grow up.
If you are a New Warriors-newbie, here is a brief crash course on the history of the team:
The New Warriors is a Marvel Comics series originally created by comic book editor and writer Tom DeFalco and comic book artist Ron Frenz. DeFalco and Frenz co-created the New Warriors in issue #411 of The Mighty Thor in 1989. Shortly after, the New Warriors got their own comic book series and have seen many iterations since. The original New Warriors series lasted seventy-five issues, which was no small achievement in the early 90's, but it never became the huge hit that Marvel wanted it to be. Several other attempts have been made at reviving the New Warriors team over the years, but none of them lasted more than twenty issues in total.
Marvel's New Warriors is based on the iteration created by comic book writer Zeb Wells and comic book artist and illustrator Skottie Young. Their's was a six-issue mini-series that featured the New Warriors as the stars of their own reality TV show. In this version, original members Night Thrasher, Speedball, and Nova were joined by new characters Microbe and Debrii. These New Warriors have a notorious reputation in the Marvel Universe because of a televised fight against a group of super villains in Stamford, Connecticut. This particular incident was one of the sparks that led to the "Superhero Registration Act" and the Civil War comic that followed as a result. Fans of the Marvel Cinematic Universe will be familiar with this particular comic, since it's the basis of the popular move 'Captain America: Civil War.'
The new series from Marvel and Freeform is pulling from the various iterations of the New Warriors comics and are focusing mainly on characters that were created exclusively for the team. On April 19, Marvel and Freeform revealed the team of somewhat-superheroes, who will be joining the previously announced Squirrel Girl, in Marvel's New Warriors. They include a YouTuber, a hypochondriac, and a lazy immortal to name a few. Its good to know that the world is in good hands…?
Here is a bit of background information on the newly-revealed members in this new iteration of the New Warriors team, along with Marvel's descriptions of their TV incarnations. You can find the character line-up and even more information about Marvel's New Warriors on marvel.com.
Squirrel Girl (Doreen Green)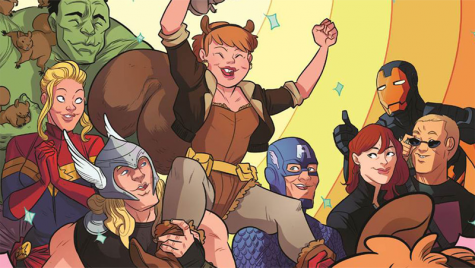 Superpower: "The powers of a squirrel, the powers of a girl." Is acrobatic, strong, can fight, can talk to squirrels.
Squirrel Girl has never been a member of the New Warriors in the comics at all. Originally, Squirrel Girl was a member of comedic group, the Great Lakes Avengers.
She was originally introduced in 1992, but hadn't made another appearance until almost a decade later. That was when she became incredibly popular and the Squirrel Girl fandom began to form; she is now one of Marvel's most popular heroes and has her own comic book series.
According to an announcement from Marvel, Squirrel Girl is "a totally empowered fangirl. She is a natural leader – confident and tough, not innocent. Doreen is bouncy and energetic and her greatest quality is her optimism… She has faith in others and inspires people to believe in themselves. She also takes her pet squirrel, Tippy Toe, everywhere." According to Kevin Biegel, Squirrel Girl is a funky fangirl and "wonderful heart of the show" with acrobatic skills, superhuman strength, and a cool squirrel tail. "She is openly hopeful and earnest and sweet and optimistic, but smart and very determined that she can make a difference, too. She knows she's great and if you're not going to get on board with her, she'll leave you in the dust."
Since the debut of the Squirrel Girl comic book series, Unbeatable Squirrel Girl (co-created by Ryan North and Erica Henderson in 2014), Squirrel Girl has been an extremely popular comedic superhero and a Marvel fan-favorite. Both Anna Kendrick and Stranger Things star, Shannon Purser, have expressed interest in playing her.
Mister Immortal (Craig Hollis)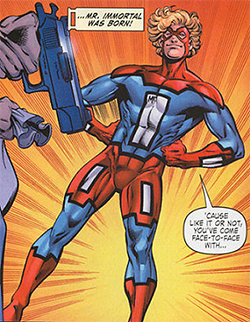 Superpower: Cannot die. Ever. Maybe? So he says.
Mister Immortal is one of the characters who in the line-up, along with Squirrel Girl, wasn't created for the team and has never been a part of it. Instead, he was created for Marvel's comedic series the Great Lakes Avengers. He was created by comic book legend John Byrne, and was the leader of the group that had silly-sounding superheroes like Dinah Soar and Flatman.
In the comics, Mister Immortal's power is that he doesn't die, not matter what you do to him, which I expect will be a recurring gag on the show.
For his TV reincarnation, Mister Immortal is described as "the team troublemaker and lothario… Craig is kind of like 'The Most Interesting Man Alive,' except he's more cocky than confident and at times, charmingly grumpy. Although Craig's superpower seems amazing, he hasn't made use of it at all – he's lazy and figured if he has all the time in the world to learn how to fight, what's the rush?" According to Kevin Biegel, "Craig is a little more jaded and saying things aren't as rosy and the world isn't as hopeful as you make it out to be.
Night Thrasher (Dwayne Taylor)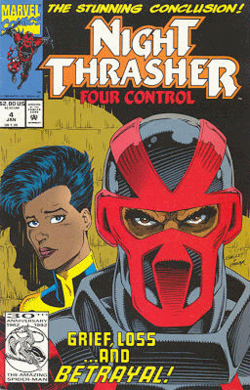 Superpower: None.
He is the character that is mostly closely associated with the New Warriors team because he originally was created to be its leader.
As a child, Dwayne saw his wealthy parents killed right in front of him. This traumatic event drove him to train heavily for years and become the world's best martial artist and, eventually, a vigilante.
The TV incarnation of Night Thrasher is described as a local celebrity hero with his own YouTube channel. He hides the fact that he comes from a wealthy family, so as not to ruin his "street cred." According to Kevin Biegel, "Dwayne is the one who's enterprising and really trying to figure out the business side of everything, but at the same time he really does care about justice."
Speedball (Robbie Baldwin)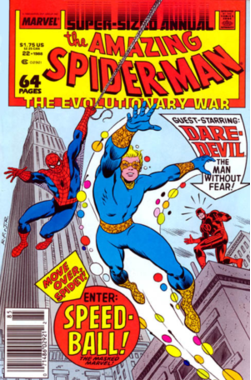 Superpower: Can launch kinetic balls of energy.
He is the one character created by Spider-Man's co-creator, legendary comic book artist Steve Ditko. Ditko created Speedball for his own series back in 1988, which was very short-lived. Shortly after, Marvel salvaged the character for the New Warriors. Speedball has the power to create kinetic balls of energy, and was a staple member of the New Warriors team for many of its iterations.
The TV version of Robbie "grew up watching Quinjets taking off from Avengers Tower and loves the idea of being a hero. He's impulsive and immature people-pleaser with a misplaced sense of confidence." Speedball has the knack, though not the greatest aim, for tossing kinetic balls of energy. According to Kevin Biegel, although he's immature and impulsive, "Robbie has these noble aspirations, but can't quite figure out which one to pursue." So far, that sounds very close to his comic book counterpart. His costume in the comics is also very silly and very dated, so I hope they don't change it one bit.
Microbe (Zack Smith)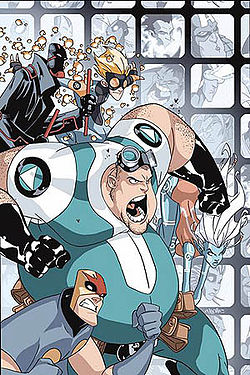 Superpower: Can talk to germs/microscopic organisms.
In the comics, he has the power to communicate its germs and other microscopic organisms. His father was a prominent doctor who thought he had discovered a way to cure previously incurable diseases. However, it turned out that Zack had unknowingly used his powers to "talk" the diseases into acting out the results that his father wanted. His father,Mona a disgraced doctor and medical researcher, disowned Zack. Night Thrasher took him in and made him a New Warrior.
Like Debrii, Microbe was created for and introduced in the 2005 mini-series that made the team reality TV show stars.
In his TV show description, Zack is described as "a shy hypochondriac whose ability nearly makes him a telepath – the germs tell him where you've been, what you ate and who you hang out with. It's impossible to keep secrets from him. He's a big sweet guy the team takes under their wing, and they help him grow his own confidence." According to Kevin Biegel, "Zack is literally just looking for a connection: 'Hey, maybe j can find a group of people I can hang out with,' which is totally part of who you are in your 20s."
Debrii (Deborah Fields)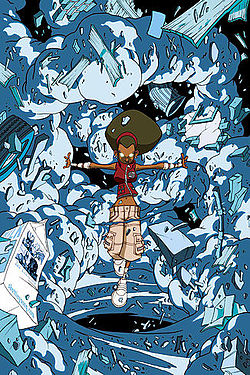 Superpower: Low-level telekinetic; trickster.
Debrii (pronounced: 'debris') is described as a low-level "telekinetic magnet." She has the ability to move masses of large objects that are close to her at will, and can manipulate several of those objects at once.
Deborah joined the team in the 2005 mini-series, when the producer of the New Warriors reality TV show felt it would get better ratings with the addition of a more "volatile" personality, which is why she was added to the team. She was smart enough to avoid being killed in the opening scenes of Marvel's Civil War by not reuniting with the New Warriors after the reality show was cancelled.
Her TV incarnation is described as "profound, funny, and quick-witted. Deborah has experienced deep loss in her personal life as a direct result of super 'heroics.' She can take care of herself, at least she says she can. She's the one do calls people on their crap and has no fear of putting her opinions out there." Debrii is another character that sounds pretty identical to her comic book counterpart.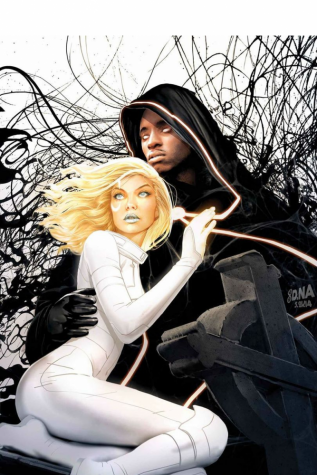 The New Warriors is the second Marvel series order at Freeform. Freeform also has Marvel's youth-oriented Cloak and Dagger underway for 2018, which will star Aubrey Joseph and Olivia Holt. (You can watch the official trailer here!) This is part of a corporate effort by Disney, who owns both marvel and the corporate network. "Expanding our relationship with Marvel is a big priority for us," says Tom Aschiem, President of Freeform, formerly known as ABC Family.
I don't know about you, but I have high hopes for this new, quirky band of misfit heroes. In a world full of extremely serious and sometimes overly-dramatic superhero movies and TV shows, The New Warriors will be the comedic breath of fresh air that we all didn't know we needed. It's important for Marvel to make The New Warriors, and even Cloak and Dagger, right; after TV flops such as Agent Carter – which was canceled after its second season due to poor ratings – and Agents of S.H.I.E.L.D. – which dropped in ratings once again, and was even moved to a 9pm time slot on ABC – these two shows, in my opinion, will determine the future of Marvel TV. Marvel is, however, remaining successful when it comes to Netflix Original shows, such as Daredevil and Luke Cage.
What do you think about Marvel's upcoming new comedy series, Marvel's New Warriors? Tweet us your thoughts (@St_Edward_Edge) or leave a comment, letting us know whether you're excited or your opinions on this iteration of the New Warriors team.